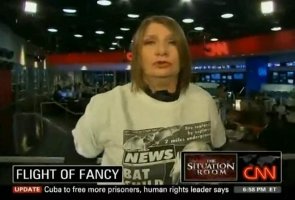 Yesterday, Fox & Friends committed an embarrassing gaffe when it reported on a fake story that the Los Angeles Police Department was buying 10,000 of these jetpacks at a cost of $100,000 each. The "story" originated here. At least the jetpacks themselves are real.
Well, you had to figure it wouldn't be long before someone in the media took a look at such a glaring error, and today, CNN's Jeanne Moos delivered on The Situation Room. Wolf Blitzer teased the segment saying the story "had one major news network fooled," but the mistake appeared to have CNN delighted. Moos especially reveled in the fact that Fox & Friends' source was the Weekly World News, and made several references to that publication's most famous creation, Bat Boy.
Also of note: Moos working out that the total cost of the jetpacks would have been $1 billion on a whiteboard (her answer to this?); and the fact that there are apparently two such jetpacks currently in existence (the LAPD really would've regretted buying 10,000 in that case).
In fairness to Fox & Friends, though, they did correct themselves later in the show and admitted the LAPD hadn't really bought any jetpacks – a correction Moos didn't mention. Video of her segment below: watch it and marvel that the Weekly World News made it into the actual news cycle.
Update: Ms. Moos tells Mediaite that while she was crashing the piece for Situation Room, they didn't realize that Fox News had made the admission. "Within minutes of crashing that version, we updated the piece to include the Fox admission."
Have a tip we should know? tips@mediaite.com