Jeanine Pirro Rips Into Newspaper That Outed Her As A Gun Owner In 'Pedophile-Like' Online Map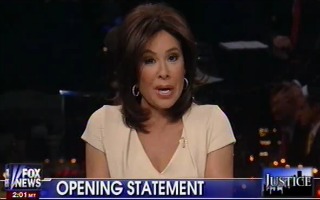 On her Saturday program on Fox News Channel, host Jeanine Pirro tore into the New York-based paper, The Journal News, which recently outed her and many other local residents as gun owners. Pirro said that the paper's actions have made them look weak and scared. The fact that they have had to hire armed guards for their protection after publishing the map is striking hypocrisy.

RELATED: Newspaper That Published Map Of Gun Permit Holders Hires Armed Security Guards
"The firestorm began when The Journal News identified gun owners in a pedophile-like, interactive map," Pirro said. "The battered woman, hiding from her abuser, whose address has been protected by the courts. The police officer, whose family is now in jeopardy. The witness, who testified against the bad guy who is in jail and, for years, has been stewing about that witness."
"When the heat is turned up, and we want answers and we want to know why, you – The Journal News – can't talk," Pirro asked pointedly. "Was it your leftist, liberal, anti-gun agenda? Did you even think about the consequences? Was it all about money?"
"Will you step up if something happens to us," Pirro asked. "You know you've made us vulnerable."
She read a portion of a statement released by The Journal News' president explaining the rationale behind publishing the map of gun owner's homes. Pirro found their explanation to be insufficient.
"Now that you're under the microscope, you look like a deer in headlights," Pirro said, speaking directly to The Journal News' staff. "You're looking pretty weak right now. And my sources tell me you're scared. You're disconnecting your phones. You're hiding behind people with guns, after criticizing those of us who legally own them."
Pirro closed by saying that, while she knew the names and addresses of many of The Journal News staffers, she would not divulge this information to her audience because it could put people in jeopardy.
Watch the segment via Fox News Channel:
> >Follow Noah Rothman (@Noah_C_Rothman) on Twitter
Have a tip we should know? tips@mediaite.com