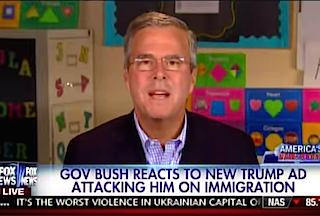 Jeb Bush's assertion that immigrants entering the country illegally are committing an "act of love" came back to haunt him this week in the form of an attack ad from Donald Trump that has been drawing comparisons to the infamous Willie Horton ad from George H.W. Bush's 1988 campaign. But Bush is not backing down from his original comments, as he told Fox News on Tuesday morning.
At first, when Fox's Martha MacCallum asked Bush if he stands by his "act of love" statement, he shifted gears, saying, "What I stand by is the fact that we need to secure our border." But once he was finished touting his own tough-on-immigration credentials, the anchor returned to her original question.
"But you stand by the fact that you believe that many immigrants come here out of an 'act of love?'" MacCallum asked once more.
"Of course they do," Bush replied, "but that doesn't matter. What we need to do is secure the border."
Watch video below, via Fox News:
In response to Trump's ad, the Bush campaign first fired back at Trump with a memo that accused the GOP frontrunner of supporting "soft-on-crime liberals." Now, they have released an ad of their own titled "The Real Donald Trump," which hammers home the point that Trump considered himself a Democrat for much of his career:
.@realDonaldTrump in his own words
https://t.co/FM0tF1mNTB

— Jeb Bush (@JebBush) September 1, 2015
UPDATE — 12:40 p.m. ET: Trump reacted to Bush's new ad with a series of tweets early Tuesday afternoon. He was not impressed:
Yet another weak hit by a candidate with a failing campaign. Will Jeb sink as low in the polls as the others who have gone after me?

— Donald J. Trump (@realDonaldTrump) September 1, 2015
Jeb is spending millions of dollars on "hit" ads funded by lobbyists & special interests. Bad system.

— Donald J. Trump (@realDonaldTrump) September 1, 2015
While millions are being spent against me in attack ads, they are paid for by the "bosses" and "owners" of candidates. I am self funding.

— Donald J. Trump (@realDonaldTrump) September 1, 2015
[Photo via screengrab]
— —
>> Follow Matt Wilstein (@TheMattWilstein) on Twitter
Have a tip we should know? tips@mediaite.com