Jeb Bush Tells Hannity The GOP Needs One, Singular… Female Spokesperson: 'The World Is Changing'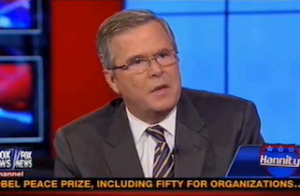 On the same day he left the door open for a 2016 presidential run on the Today Show, former Florida Governor Jeb Bush went on Fox News' Hannity to discuss his future plans and offer his advice to an ailing Republican Party. One idea he put forward that momentarily took Sean Hannity aback was the need for a single GOP spokesperson, preferably a female one.
Bush said that rather to respond to President Obama's "demagoguing" of the Republican Party, as Hannity put it, the GOP needs to offer a "positive" and "hopeful" alternative. He then referenced a Wall Street Journal op-ed by Daniel Henninger that asked "Where Is The GOP's Jay Carney?"
As Henninger outlines in his piece, Bush argued that Republicans need to speak with "one voice" instead of the "disparate" factions that have been competing with each other. The party, Bush said, needs to "have a spokesperson, he or she, preferably a she–"
At that point Hannity cut Bush off, asking, "Why a she?"
Bush replied that having a female spokesperson for the GOP would acknowledge that "the world is changing demographically" and send the signal that "we're inclusive." He expressed disappointment that his party has failed to offer a cohesive alternative to President Obama and the Democrats on health care, taxes, education and other issues.
Widely viewed as one of the more moderate members of the Republican Party, Jeb Bush will have a long way to go, if he does want to become the 2016 presidential nominee, in
uniting the GOP with one voice, whatever gender it may be.
Watch video below, via Fox News:
—
>> Follow Matt Wilstein (@TheMattWilstein) on Twitter
Have a tip we should know? tips@mediaite.com