Jeb Bush's Biggest Constituency, the Press, Sees Him as GOP's 2016 Christie Alternative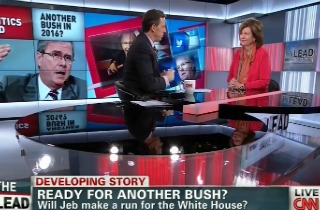 With Chris Christie ostensibly knocked off his perch as the early frontrunner for the 2016 Republican presidential nomination, the search is on to find an alternative that is acceptable to both conservative and moderate GOP primary voters. At least, that's what the political press would have you to believe.
Appearing on CNN's The Lead with Jake Tapper, USA Today political reporter Susan Page was asked for her take on one possible substitute for Christie that "will bridge the divide" that exists between conservative tea party voters and the GOP's moderates. The most likely contender at this early stage of the 2016 election cycle who may fit that bill, Page says, is former Florida Gov. Jeb Bush.
"If he runs, how formidable do you think he'd be?" Tapper asked.
"I think he'd be tremendously formidable," Page replied, "because he's one of those candidates – one of those rare candidates that is acceptable to the most conservative faction of the GOP, but also very well-liked by the establishment."
"Do you think the tea party likes him?" Tapper asked.
"I think he is acceptable to the tea party forces in a way that Chris Christie will never be," Page asserted. "He is, in almost a unique way, able to kind of bridge the divide that we see in the Republican Party today."
This is interesting analysis and, if Bush has emerged as a potentially competitive 2016 GOP candidate, it would be fair to call it a political earthquake. So why aren't more people talking about the Jeb juggernaut barreling toward 2016? Well, it could be that Page is providing CNN's audience with a subjective assessment of Bush's potential.
The race for the 2016 GOP nomination is fluid, and will only become more so as the fallout surrounding "bridge-gate" is fully absorbed by the party's electorate. But there is plenty of data available to parse in order to evaluate whether Page's assertion about Bush's ability to emerge as the party's nominee in three years has merit.
Of the last four polls measuring the state of the GOP race, Christie remains the top dog. Of those polls, all taken of registered voters from December 3 to January 14, Christie maintains a 3 to 5-point lead over his nearest competitor. Real Clear Politics pegs shows him with a 5.7 percent average lead over the field of potential GOP candidates.
But let's dig a little deeper into the polls. Of the most recent surveys of the 2016 Republican field that provide a breakdown of subgroups, the most recent – a Public Policy Polling survey taken from December 12 to 15 – shows that Bush is the second least popular candidate among "very conservative" voters in a field of 9 possible candidates. The former Florida governor nets just 6 percent support. Only Louisiana Gov. Bobby Jindal ranks behind Bush with 2 percent support among "very conservative" voters.
But that field included the arch conservative former Arkansas governor and television host Mike Huckabee. If one removes Huckabee from the equation, Bush does gain some support among conservative voters – precisely 1 percent. In that scenario, he rockets from an anemic 6 to a slightly more healthy 7 percent support with "very conservative" voters.
While that survey did find Bush with a much higher favorability rating among "very conservative" Republicans than Christie (Bush's 50 percent to Christie's 34 percent), the poll showed rather definitively that Sens. Ted Cruz (R-TX), Rand Paul (R-KY), Rep. Paul Ryan (R-WI), and even Christie are preferable to Bush among "very conservative" Republicans. This data is valuable because these voters are the least likely to be moved significantly by the "bridge-gate" scandal.
A Quinnipiac University survey taken from December 3 – 9 does not offer us insights into the "very conservative" mind, but it does break GOP voters down by gender. Quinnipiac offers us perhaps the most surprising findings.
In that poll, Bush enjoys the support of 11 percent of Republican and Republican-leaning men and 11 percent of Republican and Republican-leaning women for a grand total of 11 percent support. While Christie receives 17 percent support in that poll, the vast majority of his support comes from women at 21 percent compared to just 14 percent from men.
This should shock precisely because both candidates have made education reform, an issue that women respond to, the centerpiece of their political identity. For Bush, reforming the education system is comprehensive, holistic, and inclusive. It has won him accolades from the hosts of MSNBC's Morning Joe and President Barack Obama. Christie, too, has reformed the education system in New Jersey in a far more confrontational fashion. His government took control of a variety of underperforming urban school districts and severely curtailed the power of New Jersey's teachers unions, even in the face of aggressive protests. That's precisely the kind of thing that should turn women off, even Republican women. It has not.
This indicates that both very conservative voters and moderate voters in the GOP do not regard Bush as an especially attractive candidate, at least not today. But these surveys were taken before any of the details involving the George Washington Bridge closures became national news. The only recent survey – an NBC News/Marist University poll taken from January 12 – 14 — shows Christie dropping slightly in the field of conservatives, though he still leads the pack. But that poll also shows Bush dropping from his December, 2013 plateau of 10 percent support among conservatives to just 8 percent support.
Anything can happen in three years, and even Page would likely concede that making definitive statements about the field of prospective candidates this far out is unwise, but surveying the available data is a far sight more informative when discussing the 2016 primaries than consulting your gut for its opinion and presenting its grumblings as fact.
[Photo via screen grab]
— —
> >Follow Noah Rothman (@NoahCRothman) on Twitter
Have a tip we should know? tips@mediaite.com