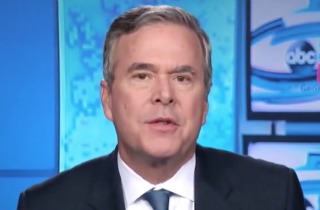 Has Jeb Bush helped pave the way for Donald Trump's rise? That's the argument put forth by Weekly Standard senior writer Stephen Hayes.
Hayes is no fan of Trump, but he found it rather amazing that Bush's reaction to National Review's anti-Trump push was "Welcome to the fight" for two reasons. Firstly, because National Review has been part of this fight for a while, and secondly, because "Trump has had few better allies than Right to Rise, the super PAC supporting Bush's candidacy."
Many believe Right to Rise's strategy is to target every non-Trump candidate in the race so that the race finally comes down to Bush v. Trump.
Hayes' conclusion is thus:
With each passing day, as Team Bush uses its paid media to target virtually everyone other than Trump, and to try to bury Marco Rubio, it becomes more and more likely that the lasting legacy of Jeb Bush's 2016 presidential bid will be its prominent role in making Donald Trump the nominee and contributing to the crisis of conservatism that will follow.
On ABC's This Week today, Martha Raddatz brought that up to Bush himself.
Bush first insisted that Trump is not a conservative and would be a disaster for the country.
He claimed that he's the "only guy taking Trump on" (fact-check: unbelievably, ridiculously false), adding, "The Weekly Standard can say what they want, but I'm the only guy that consistently goes after him."
Watch above, via ABC.
[image via screengrab]
— —
Follow Josh Feldman on Twitter: @feldmaniac
Have a tip we should know? tips@mediaite.com
Josh Feldman - Senior Editor