Red Eye Panel Chews Out Van Jones For Labeling Libertarians Homophobic And Racist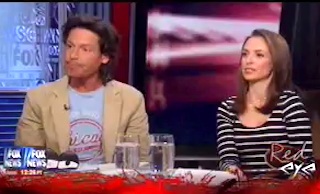 Appearing on Red Eye Wednesday morning, Conservative commentator Jedediah Bila took Van Jones to task for lambasting libertarians as being racist and homophobic. Over the weekend, Jones spoke at the "All In For The 99%" rally in Los Angeles where he said libertarians "hate the people, the brown folk, the gays, the lesbians, the people with piercings, ya know ya'll."
"Doesn't he have this all backwards?" Gutfeld asked incredulously. "Libertarians would vote for a gay president. Obama supporters probably wouldn't."
"Jedediah, what does he got against libertarians?"
"I don't think he knows what (libertarian) means," Bila hit back. "I really don't think he understands it. Libertarians are some of the most fierce defenders of gay rights, they're always talking about issues like that."
"I know–" Gutfeld interjected.
"It is just chilling that he has no idea what he is talking about," Bila continued. "I guess he thought 'liberty' and associated that with conservatives. And then in his mind, conservatives hate gay people, black people, whatnot and did that kind of stereotype."
RELATED: Van Jones: Even If 'Obama Came Out As Gay' He Would Not Lose Black Vote
Bill Schultz surmised that Jones gleaned his attitudes towards libertarians from Glenn Beck.
"Who got him removed from office? Glenn Beck. What does Glenn claim to be? A libertarian. Is he? I don't think so, but that's what he perceives to be a libertarian he doesn't know what it is," Schultz surmised. "But he knows he's angry at 'em. They cost him his job."
"He's got a vendetta," Bila added.
The Libertarian Party's platform backs up Bila's assertion that libertarians are staunch defenders of gay rights:
Section 1.3 "Personal Relationships":
Sexual orientation, preference, gender, or gender identity should have no impact on the government's treatment of individuals, such as in current marriage, child custody, adoption, immigration or military service laws. Government does not have the authority to define, license or restrict personal relationships. Consenting adults should be free to choose their own sexual practices and personal relationships."
Section 3.5 "Rights and Discrimination"
We condemn bigotry as irrational and repugnant. Government should not deny or abridge any individual's rights based on sex, wealth, race, color, creed, age, national origin, personal habits, political preference or sexual orientation. Parents, or other guardians, have the right to raise their children according to their own standards and beliefs.
Watch Red Eye take Jones to task for his comments about libertarians:

Have a tip we should know? tips@mediaite.com