Jeff Daniels Smacks Down Reports That HBO's The Newsroom Is Based On Olbermann: 'Sorry Keith'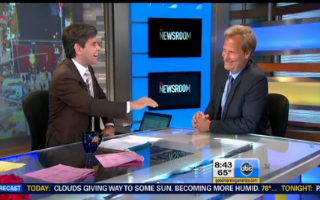 The upcoming HBO drama The Newsroom, which focuses on a controversial news anchor and the dramatic interactions he has with his production team and network executives, has become the subject of controversy even before the first episode airs. Former MSNBC and Current TV anchor Keith Olbermann told the New York Times last week that "this is the second show [creator Aaron Sorkin] has done about my life." Sorkin shot down that interpretation in a magazine interview on Friday and, today, actor Jeff Daniels told Good Morning America that he is not playing Olbermann in this program.

RELATED: Keith Olbermann Taking Shots At The Young Turks And Counting His Money
A New York Times story from June 6 said that "This is the second show he's done about my life." Olbermann said that Sorkin's short-lived ABC series Sports Night was loosely based on his career at ESPN prior to joining MSNBC. Similarly, Olbermann sees too many parallels between his career – covering events like the BP oil spill in 2010 and the death of Osama bin Laden – and The Newsroom to ignore.
However, in an interview with Vulture Magazine, Sorkin makes it very expressly clear that any similarities between Jeff Daniels character and Olbermann are purely coincidental.
But—let's be really clear about this—no character on the show is based, even a little bit, on anyone from real life. Okay? Anyone. Jeff Daniels is not playing Keith Olbermann. Will bears no resemblance to Keith Olbermann … I'd really like to put that away. Any similarities you might be able to find are purely coincidental. Keith wasn't on my mind at all.
Now, Daniels has also confirmed that he is not playing a dramatized version of Olbermann.
"Who did you base it on," GMA anchor George Stephanopoulos asked Daniels about his character in The Newsroom.
"No one," replied Daniels. "Sorry Keith. No One."
Daniels said that the show's writing team decided to create an entirely fictional news personality and insert them in the world of established television personalities that are on the air today. "Aaron never said, 'by the way, this is based on so-and-so," said Daniels. "Never said it."
Watch the segment below via ABC:
> >Follow Noah Rothman (@Noah_C_Rothman)on Twitter
Have a tip we should know? tips@mediaite.com