Jeff Jarvis Explains #F*ckYouWashington Twitter Trend: 'You Can Hear The Voice of the Country'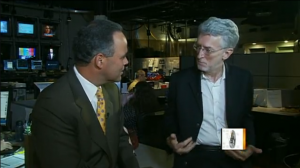 As debt ceiling negotiations continue to crumble, many Americans are upset at the inability of politicians to compromise on a deal. CUNY journalism professor Jeff Jarvis tapped into this frustration with a Twitter chant that caught fire and exploded all over the internet last weekend: #FUCKYOUWASHINGTON
It began last Saturday when Jarvis tweeted his initial frustration with how Congress has been handling the current economic crisis: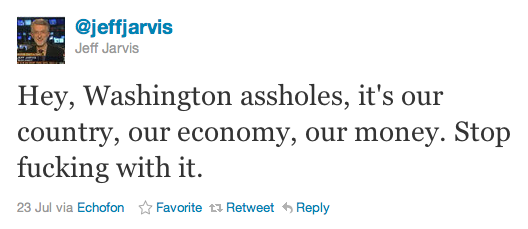 After a few minutes, Jarvis boiled down his anger at Washington into chant form.
Eventually, one of his followers suggested hashtagging the word, and it caught on all across Twitter. There were many Howard Beale-esque statements made by Jarvis and others on the internet, and Jarvis himself got a lot of complaints from Twitterers who didn't think his use of profanity was appropriate. Since the meme started, it's been a popular trend in the United States, but it has not hit the top trends on Twitter. On Jarvis' blog post explaining the trend's origins, you can see an image from Trendsmap tracking how many people in each state were tweeting with the phrase. As of today, over 70,000 tweets have been sent out with the hashtag.
The trend caught the attention of some mainstream news outlets, and today, Jarvis was interviewed on CBS' Early Show to explain the trend to a national audience. Correspondent Jim Axelrod spoke to Jarvis about the origins of the #FuckYouWashington trend:
I'm watching the evening news, I'm seeing the latest on the debt crisis, I'm getting mad, I go back to Twitter… so I said, "Hey Washington, it's our economy and our money, so fuck you."
Jarvis also explained why this caught on as quickly as it did on Twitter:
The beauty of this is you can hear the voice of the country, not mediated by media, or by government or anybody else. Real people were talking and saying what they wished government would do that it's not doing.
What's interesting about the segment is that even though CBS was very meticulous in censoring any verbal or typed references to the f-word, you can still find the word uncensored in the segment's b-roll.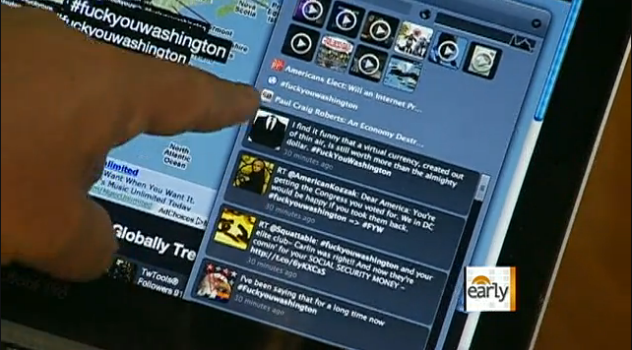 Some people pointed this out to Jarvis on Twitter, and one person asked if the FCC might penalize CBS for not blurring "fuck" in that specific instance. But Jarvis has been defending the use of the word "fuck" as appropriate political speech, especially in the following two tweets.

You can watch the video below, courtesy of CBS News:
Have a tip we should know? tips@mediaite.com
Josh Feldman - Senior Editor