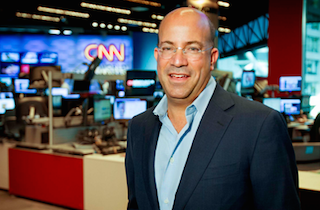 CNN President Jeff Zucker offered some hints as to how his network will cover potential hearings on the White House response to the 2012 attack on a U.S. consulate in Benghazi, Libya last night at the Deadline Club's annual awards dinner. Unlike some other cable news networks that were left unmentioned, Zucker said CNN would not be "shamed" into covering the Republican-led investigation if it did not contain any real news.
"We're not going to be shamed into it by others who have political beliefs that want to try to have temper tantrums to shame other news organizations into covering something," Zucker reportedly told The New York Times' Bill Carter, who interviewed him for the event. "If it's of real news value, we'll cover it."
Fox News has consistently covered the Benghazi story more than CNN or MSNBC, and recently started cutting away from President Barack Obama's press conferences so long as the questions pertained to other matters. Presumably, any future Benghazi hearings will be big news on Fox.
During the interview, Zucker also touched on how CNN plans to move forward from the missing Malaysia Airlines Flight 370 plane story, which has given the network a large ratings boost, but is starting to have diminishing returns as the search continues without any major developments.
"If I take a step back from our coverage of the Malaysian plane's disappearance, I'm incredibly comfortable with it," Zucker said. "I believed early on, right from the start, that it was an enormously important story: an American-made Boeing jet liner, with Rolls Royce engines with 239 people, disappears into thin air… That's why we devoted the resources that we did to it."
As for whether CNN made any mistakes in its coverage, Zucker did point to Don Lemon's infamous speculation surrounding a black hole. "He was being facetious, but it did not come off that way," Zucker said. "And he knows that if he could do it over again, he wouldn't quite present it that way."
Read the full report on Zucker's comments at capitalnewyork.com.
[Photo via CNN]
— —
>> Follow Matt Wilstein (@TheMattWilstein) on Twitter
Have a tip we should know? tips@mediaite.com