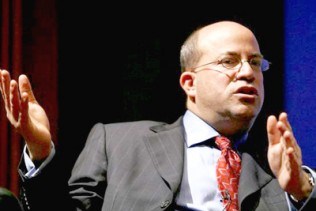 The guessing game has finally ended!
The CNN Breaking News twitter feed officially announced the news this morning that former NBCUniversal CEO Jeff Zucker will take over as President of CNN Worldwide after current chief Jim Walton vacates the post at the end of this year.
Weeks ago, we here at Mediaite made the case for Zucker taking over the highly-coveted gig. We noted that Zucker would be a source controversy, seeing as how when he was CEO of NBC Universal, he drew ire for his poor handling of the Conan-Leno debacle and he oversaw the slipping of NBC's primetime TV lineup from number-one among broadcast networks to a dismal last place.
But his failures were far more widely covered then his enormous success in leading NBC's cable assets — a record that we believe makes him a great replacement for Walton.
Zucker can be largely credited with guiding MSNBC out of the gutter and establishing it as an actual competitor to Fox, ultimately beating out CNN on a regular basis. When he was at the helm, MSNBC and sister financial news network CNBC logged record profits and ratings unseen up to that point. He also achieved enormous success with NBCUniversal's entertainment cable networks like USA, Bravo, Syfy, and Oxygen — all of which were increasingly profitable when he was top dog.
As the New York Times reported yesterday, someone close to the CNN hiring process said that "They want someone who has programming and management and cable expertise; someone who can be credible to the staff and to the business community. They know that this is a pretty tall order."
Zucker fits that bill.
CNN's tweet below: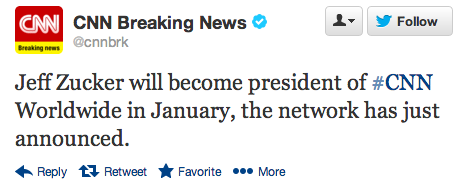 UPDATE: Zucker is currently the executive producer of Katie Couric's syndicated talk show, Katie. In a statement obtained by Mediaite, Couric said the following:
I'm very excited that Jeff has such a wonderful opportunity at CNN and equally excited for CNN. I'm also grateful that Jeff has been so instrumental in getting our show off to such a strong start and look forward to working with the fantastic staff we've assembled and building on the strong foundation we've created.
— —
>> Follow Andrew Kirell (@AndrewKirell) on Twitter
Have a tip we should know? tips@mediaite.com