Jeffrey Toobin Explains Why CNN First Reported Individual Mandate Ruled Unconstitutional
Toobin Explains Why CNN First Reported Individual Mandate Ruled Unconstitutional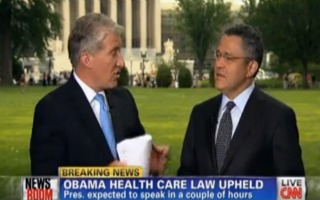 Jeffrey Toobin, CNN's chief legal analyst, explained why CNN initially reported that the Supreme Court had ruled the individual mandate within the health care reform law unconstitutional. Toobin said he was as surprised as most in the court, including lawmakers like Rep. Michele Bachmann (R-MN) and Sen. Orrin Hatch (R-UT) who were also in attendance as the verdict was read.

RELATED: Supreme Court Declares President Obama's Health Care Reform Law Constitutional
At 10:07 a.m. EST, just after the Supreme Court's verdict was announced, CNN reported that the individual mandate was ruled unconstitutional. Only after approximately five minutes did the network retract their original report and read the true verdict – that the mandate could survive as a tax.
"Let me start from the beginning," said Toobin in attempting to explain how the report unfolded. "It was just an extraordinary and swirling turn of events in the course of really about 10 minutes."
He said that Chief Justice John Roberts first announced that he would read the Court's opinion on the matter and cited the Commerce Clause which allows for the individual mandate.
Toobin says that Roberts originally explained why the individual mandate for citizens to be forced into purchasing health insurance was unconstitutional. "But then he turned," Toobin continued.
"He said there is a separate justification that the government has offered to support the constitutionality of the requirement that people buy health—have health insurance," said Toobin. "And he turned to the taxing power. And you could see the smiles of the conservatives in the room – I happened to be sitting right next to Orrin Hatch – you could see their eyes almost roll back in their heads. Like, are you kidding? He's going to support it on this ground?"
Toobin said that Roberts said that he upheld the mandate under the taxing power. He said he saw Sen. Hatch's face fall. "Michele Bachmann, also in the courtroom, you saw her astonishment," Toobin continued.
Toobin repeated just how shocking the verdict was at the time, and how that turn of events took everyone – including CNN — by surprise.
UPDATE: CNN has issued the following official response to their early misreporting of the Supreme Court verdict:
In his opinion, Chief Justice Roberts initially said that the individual mandate was not a valid exercise of Congressional power under the Commerce Clause. CNN reported that fact, but then wrongly reported that therefore the court struck down the mandate as unconstitutional. However, that was not the whole of the Court's ruling. CNN regrets that it didn't wait to report out the full and complete opinion regarding the mandate. We made a correction within a few minutes and apologize for the error.
Watch the segment below via CNN:
> >Follow Noah Rothman (@Noah_C_Rothman) on Twitter
Have a tip we should know? tips@mediaite.com