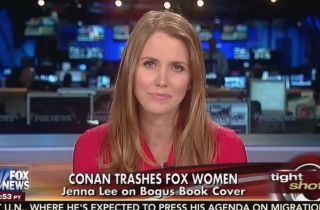 Fox News anchor Jenna Lee said on Sunday morning that comedian Conan O'Brien does not owe her an apology for comparing her and other Fox anchors to porn stars.
O'Brien, the host of Conan on TBS, joked about Lee and some of her female colleagues on his show last week, displaying a book with a picture of Lee drinking lemonade and leaning against a tree, titled: "Fox News Anchor or Porn Star?" Howard Kurtz, anchor of Fox's Media Buzz, called the book "bogus," and said O'Brien went "way over the top."
Lee responded to the controversy last week in a Facebook post, telling viewers that the picture was actually from a food interview she did in 2011 with GrubStreet.
"[A]s a wife, and a new mom, this trashy comment is not only inappropriate, it's clearly ridiculous. And not even funny!" she wrote. "I'm also someone's daughter — and it's for the benefit of young girls, like Conan's daughter Neve, who are growing up in a world where porn references to successful, educated women are somehow considered 'funny' and appropriate, even when made by fathers, that I think we need to discuss this."
Lee appeared on Media Buzz Sunday morning to further address the issue. Acknowledging that television journalists must not be thin-skinned when it comes to criticism and jokes, Lee said "at a certain point, silence makes you complicit."
The Happening Now anchor added that part of the job as a television news anchor is "looking good," in addition to ensuring that the content and demeanor of the broadcast are as professional as possible.
Kurtz and Lee also discussed whether "culture" encourages women to dress provocatively, a point that Lee dismissed.
Asked whether O'Brien should apologize to her, Lee demurred: "He was trying to be funny. He failed, clearly. A lot of the viewers that weighed in also thought it wasn't really that funny. But I think my point has been received very well." She added that both men and women at Fox have expressed appreciation for her response to O'Brien.
Watch the video below, via Fox News:
[Image via screengrab]
— —
>>Follow Andrew Desiderio (@desiderioDC) on Twitter
Have a tip we should know? tips@mediaite.com