Jennifer Granholm: In Romney's World, 'Cars Get The Elevator And Workers Get The Shaft'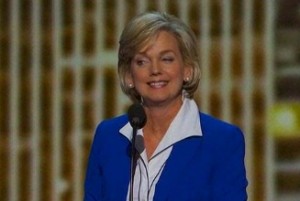 President Obama will have his work cut out for him following the Democratic National Convention's breakout star, former Michigan Governor and Current TV host Jennifer Granholm. In a short speech that packed a brass-knuckled punch, Gov. Granholm praised President Obama for rescuing the auto industry, and delivered perhaps the line of the convention: "In Mitt Romney's world, the cars get the elevator and the workers get the shaft."
Governor Granholm took the stage with movie star charisma, working the crowd up before she even said a word. Then, she opened with a sly shot at Republican nominee Mitt Romney. "Good evening," she said. "I am from the great state of Michigan. Where the trees are just the right height."
She then spoke about the hard times that fell on Michigan during the financial crisis, and singled out Romney's Bain Capital as one of the entities that did not "have the guts to help us."
"But, in 2009, the cavalry arrived, and our new president, Barack Obama, came in," Gov. Granholm continued. "He made the tough calls, and he saved the American auto industry."
Then, she went back at Gov. Romney again, saying "You know, Mitt Romney, he saw the same crisis, and do you know what he said? 'Let it go bankrupt. Sure, Sure, Mitt Romney loves our lakes and our trees. He loves our cars so much they have their own elevators."
"But the people who design and build and sell those cars, In Mitt Romney's world, the cars get the elevator and the workers get the shaft."
And the crowd goes wild.
More significant than the content of her speech (which the former Governor wrote herself), though, was the reaction to it, both from the crowd and the interwebs. Gov. Granholm got such a rousing response that people at the convention had trouble hearing much of the speech. During the speech, Jennifer Granholm was the top trending Twitter topic nationwide.
At Current TV's New York studios, producers and anchors gushed about the social media response, which they tracked onscreen, and with an innovative cloud feature at their website. Current TV co-founder former Vice President Al Gore repeated his sentiment that, had Granholm been born in the US instead of Canada, she could be the first female president, and Viewpoint anchor Eliot Spitzer joked that they'd be fabricating her a new birth certificate immediately.
Here's Governor Granholm's speech, via NBC News:
Follow Tommy Christopher (@TommyXtopher) on Twitter.
Have a tip we should know? [email protected]