Jennifer Rubin Goes Off On David Shuster For Reciting 'Media Matters Talking Points,' Tells CNN To 'Mute' Him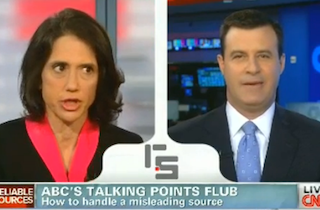 Reliable Sources got heated on Sunday morning when the Washington Post's Jennifer Rubin clashed with David Shuster during a discussion about ABC News' Jonathan Karl — who issued a statement "regretting" the error he made in reporting on emails about Benghazi talking points. Going after Shuster for parroting "Media Matters talking points," she suggested CNN "mute" him.
Karl's story wasn't incorrect, Rubin argued, adding that the problem was with the attribution… before Shuster cut her off, prompting Rubin to glare while he spoke.
"It was wrong," he countered. "Because the overall Republican point here was that the Obama administration was trying to protect the State Department — the Obama administration was trying to protect the State Department — and that the White House was somehow trying to characterize the talking points or change the talking points in order to minimize political damage. That Republican idea is just flat out wrong!"
"Very nice to have the Media Matters talking points recited out of David's lips," Rubin quipped.
"What are you talking about?" Shuster shot back. "I haven't talked to anybody from Media Matters."
As Shuster continued to talk, Rubin remarked to host Howard Kurtz, "Howard, if you want to hear me that's fine, if you don't, you should mute him."
Kurtz then interjected to add the disclaimer that we assume everyone's putting forth their own views, but Rubin pressed, "No, they're actually on Media Matters. These exact comments are coming out of Media Matters — absolutely."
Shuster deemed that as an "unfair accusation," as the two proceeded to talk over each other and Rubin again turned to Kurtz and said, "If you want to mute David." Later, Kurtz allowed her the chance to make her full point.
Watch below, via CNN:

Have a tip we should know? tips@mediaite.com