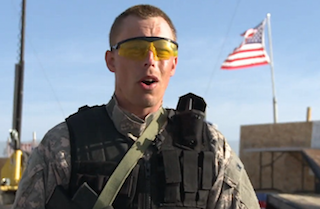 Yesterday, we brought you video of Jerad Miller, one half of the Nevada couple who killed two police officers and one civilian in Las Vegas over the weekend, speaking to a local NBC station while he was apparently serving as part of the militia on Cliven Bundy's ranch. Now, Al Jazeera America has revealed that they too spent some time interviewing Miller back in April from the Nevada ranch.
Reporter Melissa Chan spoke to Miller about why he had decided to defend the Bundy ranch from the Bureau of Land Management that was seeking to collect millions of dollars in unpaid grazing fees.
"I'm not afraid of death," Miller told Chan. "I'm afraid of being a slave. I'm afraid of being under tyranny. I'm afraid of my nieces and nephews having to grow up with — the day they are born they have $50,000 in tax debt over their heads already." He explained that his "call sign" is Joker from the DC Comic book series. "I figured if the government is going to label me a terrorist," he said, "why not be call sign Joker for the most notorious terrorist in the DC universe?"
Miller also hinted at frustrations over the NSA surveillance programs exposed by Edward Snowden's leaks. "We want our rights back," he said. We want to restore our republic. We don't want to overthrow the government. We just want the government to be under control. People like me have known they've been spying on us for a long time. We didn't exactly know to the extent."
On gun rights, he said, "The reason why we have our second amendment right is for what we did on Saturday, so we can stand up against tyranny and defend our country in case of invasion. If you disarm our population, you're making it easier for another country to come in here and invade us. So therefore it is an act of treason."
In an interview of her own on Al Jazeera, Chan offered her impressions with Jerad Miller and his wife Amanda, who both allegedly killed themselves after their shooting spree. She described him as "one of the more friendly" people at the Bundy ranch and said he openly shared his libertarian views with her.
While Cliven's son Ammon Bundy has said he personally kicked the Millers off his family's ranch, Chan noted that she saw the Bundys making pancakes for the couple when she was there. "At that time, at least, they were welcome," she said.
Watch video below, via Al Jazeera America:
[Photo via screengrab]
— —
>> Follow Matt Wilstein (@TheMattWilstein) on Twitter
Have a tip we should know? tips@mediaite.com