Jeremy Scahill Explodes At MSNBC's Touré For Suggesting Americans Can Find Justice In Yemen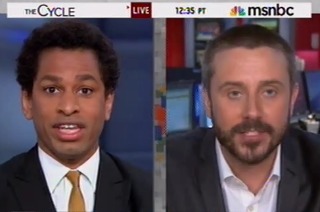 A tense exchange between MSNBC host Touré and The Nation reporter Jeremy Scahill erupted into a borderline hostile back and forth on Wednesday. When Touré suggested that American citizens linked to militant organizations could find justice in a nation like Yemen, an animated Scahill went off on him and insisted that he should try finding justice in that country himself.

"I'm curious, Jeremy, as to how you think we should be doing this," Touré asked Scahill. "If you were the commander-in-chief entrusted with keeping Americans safe, and your legacy is on the line, and all those sort of things, how do you prosecute this war?"
"I believe that we, like all nations around the world, have a right to self-defense," Scahill began. He said that there was no evidence presented against the American-born cleric killed in a drone strike in 2011, Anwar al-Awlaki.
RELATED: Report: Officials Thought They Might Kill Anwar Al-Awlaki On Anniversary Of 9/11
What evidence that was presented against him was circumstantial at best and did not constitute the minimum requirement, in Scahill's estimation, which would make him eligible for extrajudicial execution.
"They did present evidence, Jeremy, you know that, in a Yemeni court," Touré countered.
"What was the evidence, Touré?" Scahill asked. "Would you want to be prosecuted in a Yemeni court?"
"This is a country that set up a tribunal to prosecute journalists for crimes against the dictator," he continued. "If you're holding up the Yemeni justice system as a place where you think an American citizen is going to get a fair trial, then I would advise you to go to Yemen and start jaywalking and see what kind of treatment you're going to get in those courts."
"You can't have it both ways, man," Scahill added. "If you want to act like Yemen's courts are legitimate, then you better act like they're legitimate when they put political prisoners in there or they put people in there for crimes against the dictatorship."
Scahill concluded that al-Awlaki should have had access to due process before he was executed "by the constitutional law professor president."
Watch the clip below via MSNBC:
> >Follow Noah Rothman (@NoahCRothman) on Twitter
Have a tip we should know? tips@mediaite.com