Jeremy Shares What Went Through His Mind Before Asking First Q Of Debate: 'Don't Embarrass The Family'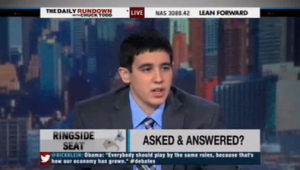 There was one clear winner in last night's presidential debate: Jeremy Epstein, the 20-year-old-college student who kicked things off when he asked about jobs.
Epstein shared that he is currently a student at Adelphi University, where he is studying exercise science, "which will hopefully lead to a career in being a physical therapist, and I'm also interested in the field of communications."
When asked by host Chuck Todd what he'd thought of the candidates' answers to his question about being able to obtain a job after graduation, Epstein said that he felt Romney had been "staring into my soul, just right through me, when he was asking me the question. I felt like, you know he offered me a job five minutes into the debate; I felt like his answer was sincere. And then when the President came up, I felt like he, you know he started up by saying my future's bright. I feel like they were both sincere. They talked very well, eloquently, and I felt they both gave good answers."
Epstein revealed that he hadn't known he was going to be able to ask his question during the town hall debate, although he "had a feeling" his question had been selected, explaining that each person submitted four questions on separate cards for the event.
"At first," he said, "when people from the debate, the other people from the debate who were with me, were coming up to me saying 'We all hear you're going to ask the first question,; and I was like, 'I don't even know I'm going to ask it.' So, I was a little nervous. It took me –- because we had a lot of down time -– the rehearsal ended around five, so from five to 7:45 we just sat there, so I had plenty of time to think, 'Ok don't mess up, try to speak eloquently. Don't seem nervous. Don't embarrass the family.'"
Epstein said he's no longer undecided about whom he'll vote for, but declined to share his candidate of choice. He did reveal, however, that he had the opportunity to chat with both candidates following the debate:
Yeah, I was talking to Mitt Romney and President Barack Obama. I spoke to Mitt Romney briefly p– said thank you for the question. I asked him if he's gonna give me that job in two years and he said maybe. Then I was speaking with President Obama asking how his Chicago Bulls are gonna do, because they lost their MVP Derek Rose, and he said that I could not beat him in one-on-one, but I disagree with that.
Watch, via MSNBC:
Have a tip we should know? tips@mediaite.com