Jerry Sandusky To Bob Costas: 'I Horsed Around With Kids' Without Sexual Intent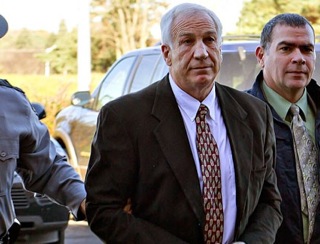 In a move that will garner him sympathy with absolutely no one (well, maybe a minority of Penn State students), former football coach and and alleged child rapist Jerry Sandusky agreed to sit down for an interview with Bob Costas on Rock Center tonight, and rather than denying his illicit conduct, he denied being a pedophile while copping up to "horsing around with kids" in showers, and agreeing with Costas that "I shouldn't have showered with those kids." Yeah, this will look good in court.
RELATED: Report: Jerry Sandusky Investigated For Allegedly Pimping Boys To Rich Donors
"I am innocent of those charges," Sandusky told Costas in a phone interview with NBC tonight, referring to the claim that he had been caught by assistant coach Mike McQueary raping a child in a bathroom. He is also charged with 40 counts of sexually abusing boys that he met through the Second Mile program, which he worked with for years, including after his retirement. The allegations date as far back as 1994, and Sandusky is currently out on bail. Via NBC:
"I say that I am innocent of those charges," said Sandusky in a phone interview with Costas.

When asked by Costas, "Are you a pedophile," Sandusky responded "No." […]

"I could say that I have done some of those things. I have horsed around with kids I have showered after workouts. I have hugged them and I have touched their legs without intent of sexual contact," said Sandusky.

When pressed by Costas about what Sandusky was willing to concede that he'd done was wrong, Sandusky said, "I shouldn't have showered with those kids."
The phone interview airs tonight at 10pm on NBC's Rock Center in full. Mediaite will have the interview once it airs.
[Photo via]
Have a tip we should know? tips@mediaite.com