Jerry Seinfeld Goes On The Telly And Tells The British That Their Royal Wedding Is An 'Absurd' 'Circus Act'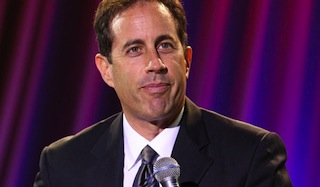 Yesterday, Jerry Seinfeld proved an old show biz rule; the ballsiest way to promote a show in a foreign country is to go on their TV and mock their royal family and their most beloved institutions. Seinfeld appeared on the British morning show Daybreak to talk up a new comedy special and gave his thoughts on the royal wedding, calling it a "circus act" and explaining how the royals aren't actually "special people." Unsurprisingly, some of the reaction to Seinfeld's comments overseas has been a little bit chilly. I suppose we should just hope Seinfeld never tries to do a stand up tour in somewhere like North Korea.
From the Daily Mail:
"Asked if he, like many Americans, was looking forward to April 29, the 56-year-old replied sarcastically: 'Yes, I'm very excited. Well it's a circus act, it's an absurd act.

'You know, it's a dress-up. It's a classic English thing of let's play dress-up. Let's pretend that these are special people. OK, we'll all pretend that – that's what theatre is,' he continued.

'That's why the British have the greatest theatre in the world. They love to dress up and they love to play pretend.

'And that's what the Royal Family is – it's a huge game of pretend. These aren't special people – it's fake outfits, fake phoney hats and gowns.'

Seinfeld added: 'It's fantastic. We don't have anything like that.'"
After airing the interview (which was taped in New York, safe from angry beefeaters), Daybreak host Adrian Chiles remarked that he was fine with Brits taking a piss, but he "can't bear Americans criticising the Royal family. It turns me into a Royalist!"
I'll go a step further! How dare Seinfeld! This is a very, very important event that totally deserves every second of media coverage it's gotten. Seriously, this isn't a "circus act" at all. This is serious business.
By the way, did you guys see the jelly bean that looks like Kate Middleton? It's totally awesome!
Watch the interview from ITV1 below:
(h/t HuffPo)
Have a tip we should know? tips@mediaite.com