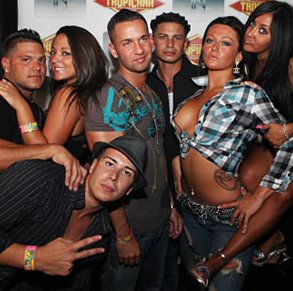 It's no surprise that Italian groups here in the U.S. have been up in arms over the way Jersey Shore's so-called "guidos and guidettes" have been representing young Italian-Americans. In fact, The National Italian American Foundation recently bemoaned the fact that the wildly popular MTV show is planning to shoot its fourth season in the Mother Country itself – Italy.
Well, now Italians get to experience the Jersey Shore phenomenon for themselves: The show premiered in Italy today and the reaction so far has been… Well, it's enough to deflate Snooki's signature poof.

The NY Post translated a comment left of MTV Italia's site, and, well. It would appear that the terrorists have won: "When I see this, I wonder whether Bin Laden had a point."
And Italy's Corriere della Sera, which actually carries clips from the show on its website, described the show's stars as having "slicked hair, exaggerated narcissism, boundless love for the family and outlandish eccentricity." Makes them sound kind of fun, actually. And not too different from the Kardashians.
Aldo Grasso, a TV critic for the paper, even told The Wall Street Journal that he's "afraid" of what the show's cast will do for Italy's image abroad. (Although, really, their partying seems tame compared to Berlusconi's various exploits. And does anyone really, honestly equate Snooki and The Situation with typical Italian-Americans, or, for that matter, Italian-Americans with Italians?)
But, hey, not everyone in Italy has a problem with the cast:
Stefano Volpe, manager of the VIP Roman night club Babel, says his doors are open to the cast even though their risqué style of dress might clash with the more formal dress codes that pervade Italian nightlife. "We let Americans in even if they have a different style and culture," he says.
Translation? "As long as these self-absorbed, fame-starved trainwrecks pay for bottle service, it's all good."
Have a tip we should know? tips@mediaite.com