Jersey Shore, Double Episode: Israeli Stalkers, The Situation Is Not A Sweetheart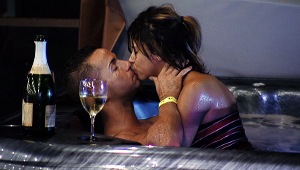 With just one more week of Jersey Shore guidoness to go before the national phenomenon concludes next week, MTV gave its viewers two full hours this week.
The Situation fought with Vinny, and Snooki, and Ronnie, and Sweetheart, and Jwoww, and Pauly D got stalked by an Israeli girl. Also: more fighting and hooking up.
We pick up from last week with Sweetheart and Ronnie trying to figure out why their roommates are mad at them. The Situation informs them he doesn't care whether they hang out or not. "The only thing we care about is getting girls," he says. "Getting girls and going to the gym." (What about tanning and laundry?! GTL!)
Sweetheart doesn't like when Snooki confronts her. "She can be a real bitch and she doesn't even, like, realize it," she says. Later in the night it gets really serious, as Sweetheart drops the nickname facade in a conversation with Ronnie. "Jenni and Nicole hate on us," she said.
Snooki wants everyone to get along. And "just go wild." And "just blow it out of the water." She finds a nice boy named Keith who she describes as "like, Irish, and he talks like a cowboy." One of those Irish cowboys. Either way, she's expanding her horizons. "Do you have a farm?" she asks. No, he doesn't have a farm, he works on a farm. They hook up. Later, Snooki talks about her goals in life. "Veterinarian, that's my zone," she tells the Irish Cowboy. "I fucking, like, save animals."
The Situation has found a girl – Paula. "We might have been holding hands possibly," he says. This is a big step. Soon, it's champagne, jacuzzi and heavy-tongued making out. "I just need to be up by 7 o'clock in the morning," she tells The Situation. This will, inevitably, become a situation. But first, it was time to interrupt them. Snooki comes home with her Irish Cowboy. "Ew, what are you doing," she says loudly. They were having sex in the hot tub, Snooks! "I don't know if she's using protection," says Vinny. Spoiler alert: no chance.
In the morning, Paula oversleeps. Her friend Lauren, wearing a tie dye shirt, comes to rescue her. The Situation wakes up to loud banging at the door: "This is either the police for me, this is either some lawyer, somebody's dad, somebody's brother, I'm like oh man." Finally someone lets Lauren in, and she grabs Paula to leave. The Situation hides in the shower to avoid a situation.
Later that day, Vinny and The Situation have a little fight. "Vinny just wishes he was me," says The Situation, but Vinny disagrees. "You're 27 years old, I would never want to be like you when I'm 27 years old," he says. "You have no game at all," says The Situation. Vinny is determined to prove he does in fact have game, and promises to do so with The Situation's sister.
While Snooki is expanding her hook-up boundaries, so too is Pauly D. He is busy with an Irsareli girl. She implores him to "come see the holy land." "I don't even understand that religion or what it is," says Pauly D. "I just want to get to the business." But his Israeli girl doesn't want to get to the business – she thinks sex is for marriage.
Although Vinny initially starts hitting on The Situation's sister, his other girl, Tonya (his boss' girl at one point in the season) is there as well, and Vinny gravitates toward the known. The Situation is actually offended – Vinny, he thinks, should be showing his sister more attention. So Vinny does, later. Without The Situation's knowledge, The Situation's sister spends the night in Vinny's bed.
Then it was time for Atlantic City.
>>> NEXT PAGE: Atlantic City, Israeli stalking, Ronnie gets arrested.
Have a tip we should know? tips@mediaite.com