Jersey Shore, Ep. 4: The Situation With The Situation Becoming Increasingly Clear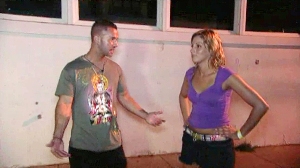 For those who have erroneously questioned whether these Jersey Shore stars actually do anything, in part because of their obvious poor work ethic in their appointed summer job at the t-shirt store – you were proved wrong on New Years Eve. Pauly D showed just why people call him "DJ Pauly D" – bringing the house down at Karma as only he could.
But the true star of the episode was The Situation – and his various anti-climactic situations with females.
This episode picked up where we last left the show two weeks ago: with Snooki getting punched in the face by a wasted frat guy at a bar. Vinny described the aftermath as: "We were just running around, looking for his friends, trying to take our anger out on someone." And that's coming from the smart guy on the show. Luckily for our lovable over-tanned little person, it looked much worse than it actually was, and she was able to avoid major damage.
But it still was crazy, and all the guidos and guidettes that star in the show were rightfully concerned. All, except The Situation. Maybe it was the editing, but while the others gathered to help their friend (or just beat up some people in her honor), The Situation was hitting on a fairly disinterested blond girl. Ronnie summed it up in a later interview: "Yo Mike, you're a fucking creep." This was a new side to The Situation – he likes to hit on girls, he thinks he's amazing, he likes to drink and really likes the hot tub. But we've normally just seen him having fun. This was rude. But more on The Situation later.
The next day, it was time for Sweetheart to meet the parents, as Ronnie brought his family over. "I definitely want to look good for Ronnie's parents," she said. "This is the first time they're meeting me. I want them to be like, 'Wow that's her, she's really pretty'…or whatever."
Ronnie's mother is the hot-tempered Italian we haven't seen much of from her son. She complains incessantly over Sweetheart's tardiness, while Ronnie tries to settle her. "It's like relax. You're fucking drinking mimosas, smoke another cigarette. Take it easy," said Ronnie, the true voice of guido reason. (In another moment, after being told of the Snooki punch, the abrasiveness of Ronnie's mother was hilarious: "Ah hell no. And you guys didn't like, bash him?") Sweetheart eventually emerges and spends the day with Ronnie's family shooting waterguns and commenting on his cute brother. Mom gave the seal of approval.
Meanwhile Snooki is recovering from her injury as you might imagine – with day drinking. Jwoww's plan for her injured friend (or, as Snooki called it, "disabled") was to "get some food, feel better, drink heavily" and later go tanning and to the nail salon. The Situation and the boys cook an "unbelievable" dinner. The girls lounge and eat. All is well until The Situation doesn't want to clean his plate. He and Sweetheart, playing the alpha roles for their individual genders, argue about this. Ronnie cleans the plate and The Situation continues needling Sweetheart. Because of her actions, he decides she is "excluded from Surf & Turf Night, excluded from Ravioli Night, excluded from Chicken Cutlet Night." I can see Surf & Turf Night, but Ravioli Night too?! That's cold, The Situation.
The next day the group go to F-Cove aboard the S.S. Forgetabowdit. This place is real. Pauly D feels bad for Ronnie "every single day we party" because he's "wasting his time with Sammi" – which is basically code for "dating" her. Snooki gets thrown in the lake by Ronnie while talking to a guy she had just met and liked quite a bit, and it's a long, lonely boat ride home for her. "Just my luck," she says as Miike Snow's "Song For No One" plays. Later she and Jwoww are out and Jwoww gets in a fight with a heckler to defend Snooki's honor. "I see, like, hair being pulled and I'm like 'oh my God how do I get in?'" she says, reflecting on her night. And while most of the house was out partying and fighting, The Situation, Pauly D and Vinny were back at the crib. And now, we must address The Situation.
>>> NEXT PAGE: The Situation With The Situation, and video of the best quote of the series.
Have a tip we should know? tips@mediaite.com