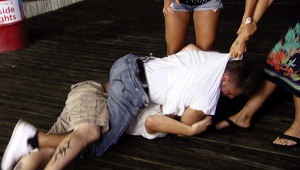 If past episodes have been about adventures in love, this episode was about adventures in war.
War between hippos and elephants and grenades and Snookis. War between Ronnie and random guys at the bar. War between Ronnie and Sweetheart (who acted enormously unsweetened this week). And of course, there were Situations.
We began this week with learning about the GTL – it's a way of life for The Situation and DJ Pauly D. GTL is "gym, tanning, laundry." It's what they do. "Every day since I got here." Vinny, however, is not that type of guido. For him, it's all about BPB – "basketball, pool, beach."
Vinny finally has a storyline – going back to when we saw him making out with his boss' girl. Danny addresses this at the t-shirt store. "Don't cross the boss, you'll be sleeping under the boardwalk," he says, before relenting (as predicted). "Nah, I'm fucking with you." Besides, Vinny has bigger plans. He spends 45 minutes on the phone with The Situation's sister Melissa. The Situation doesn't mind. "The kid's harmless, and Vinny knows that I'm pretty much the man of the house, and not push it too far or I'm gonna throw him in the trunk," he says, ignoring reality.
Melissa comes, but Vinny isn't really into her. "When I saw her up close she kind of looked a little Mike to me," he said. But the whole group go out, and The Situation makes like a "Navy seal" and grabs a girl on the dance floor. Snooki gets annoyed that Sweetheart and Ronnie don't hang out anymore – they only have two weeks left. But at least she finds a guy she wants to hook up with. "If shit happens shit happens," she says. "If one thing leads to another I'm not going to tell him to get off."
In the car back home, Sweetheart and Ronnie fight. It went like this:
Sweetheart: I'm not like every other Jersey shore girl.
Ronnie: You're acting like it.
Sweetheart: I don't care, you're lame as fuck.
When they get home, all Ronnie wants to do is barbecue, but Sweetheart is upset and hangs around. Then she goes to bed, and we learn what she's so incredibly offended by. She tells Snooki: "He said 'your feet's like fucking Fred Flintstone.' Fuck you you fucking bastard."
Apparently in Sweetheart's mind, "that is like the worst thing you could possibly do." It turns out it wasn't her entire foot – Ronnie was just commenting playfully on the size of her abnormally large big toe. There's just no convincing Sweetheart though. He tells her if he didn't care about her, he'd "go find another creature outside." But she won't have any of it. So he leaves – to go "creep on some girls at Karma," naturally. Pauly D is worried, because this may drive a wedge in the budding romance between two of his roommates. Nah, he's psyched. "Ronnie's in pure creep mode," says Pauly D. "I'm like hell yeah so now we can have some fucking fun."
Ronnie didn't go though – he went home. "I will suck your big toe right now," he says to Sweetheart, and all is well.
>>>NEXT PAGE: Grenades and Hippos…and 'Flintstones' video.
Have a tip we should know? tips@mediaite.com