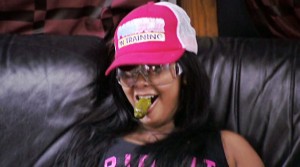 It was a sugar-free Red Bull, half-fist pump episode of Jersey Shore this week, as the gang of guidos and guidettes spending their August in Sleezeside Heights, New Jersey took it fairly easy for the majority of the hour-long episode.
Of course, f-bombs were still dropped and outs were still made. Let's get to the play-by-play.
Jwoww awoke after last week's debauchery/Pauly D make out session to be informed that yes, she did in fact make out with Pauly D, despite having a boyfriend who was slated to visit in a few hours. "She just doesn't want to feel like a trashbag because she has a boyfriend and she kissed me with the tongue," explained Pauly D.
The Situation still appears hurt by the whole Ronnie/Sweetheart situation. Rejection is not something that comes easy to anyone, but especially to The Situation. "I could pretty much have my choice of pretty much anyone down here," he says, but we know what he's thinking. If only Sweetheart wanted him and his Situation. But no, she doesn't.
There was this exchange that took place while Snooki sucked the juice out of a pickle. She loves pickles.
Snooki: Isn't there, like one thing you eat every day.
Pauly: Yes.
Snooki: What?
Pauly: I dunno.
Ronnie, to Jwoww, gives some good advice to The Situation: "He's pushing it, he's pushing it, he's like fucking pushing her away and pushing her toward me."
Now it's time for the crew to start bringing their friends to the Jersey shore house, beginning with Jwoww's boyfriend, who looks like he'd fit right in. Tommy is a slightly less built Ronnie but sounds like Pauly D. Pauly D isn't really a fan. "I think he's kind of a sucker if you ask me," says Pauly D, momentarily forgetting he himself is 29-years-old, a DJ in Rhode Island and a participant on the most embarrassing reality show of all time. Next is Angelina, who brings over her friends Lena and Alana who really want to party. She also wants to meet up with her boyfriend Mike, who finally agrees to see her. But when he sees her later that night, nice Mike has become weirdly aggressive and mean Mike. "As of tonight, don't call me on the fucking phone. I'm done," says Mike, and he disappears into the night. Also, he's married – but getting a divorce!
The next morning, Angelina is so upset about her boyfriend that she doesn't want to work at the T-shirt shop the group has been assigned to. "I don't have to do what I don't want to do. That's it. It was common courtesy for me to even walk over there," she says in a follow-up interview. When it comes time to confront her boss, she hides in a bathroom. Just as the audience realizes Angelina does not have a single redeeming quality, she is informed she has to leave the show.
>>> NEXT PAGE: The hook-ups, the drama, the gray hairs – and video.
Have a tip we should know? tips@mediaite.com