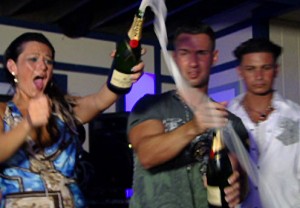 Ronald Russo* from the Bronx is a simple man who lives by one rule. Literally, he has only one rule. "You don't fall in love at the Jersey Shore," he says in what looks like an audition tape.
But do you know what happened last night on Jersey Shore? Ronnie broke his rule. And he cried uncontrollably.
Episode three picked up where episode two left off, as Ronnie left the bar after Sweetheart gave her number to a cop. "I mean…I'm a single girl," said Sweetheart. "Ronnie never said 'you're my girl.'" But because Jwoww also left the bar as Ronnie did, Sweetheart assumed they left to hook up. Which, knowing Jwoww as we all do, is probably a good assumption.
Surprisingly, however, she did not hook up with Ronnie. But still, Sweetheart was mad at Ronnie for not trusting her and Ronnie was very upset by this exchange. "I'm gonna eat her alive," he said, before running upstairs after her wearing only a towel. As the two hashed out their disagreements, Sweetheart removed her extensions. Pretty soon, all was pretty much forgiven, and Ronnie essentially declared his love to Sweetheart, making her officially his "girl." Then he sobbed.
The Situation continued his egotistical outer shell, while inside he's probably one of the most insecure characters to ever exist on television. "I got girls back here almost every night," he says, which is technically true but only to hang out in the hot tub, so pretty much not the way The Situation is implying. "There's not a time I don't have girls coming back here. Girls love The Situation."
What did happen was Pauly D and The Situation brought two girls back for a hot tub make out session. "And we're going to have sex," said The Situation bluntly. "That's the situation." But guess what – it wasn't. No sex was had and the girls left.
Tommy, Jwoww's boyfriend, tells her the next morning that he will not be coming back to the Jersey Shore. "If I come there it's going to be a fistfight," he says. Foreshadowing? Get ready for Tommy vs. Pauly D in Karma in a future episode. At their job in the t-shirt shop, Sweetheart is giving Ronnie the cold shoulder, even though they had such a great and touching night the night before. What's up with her, Ronnie? "I don't know what's up with her," said Ronnie. "I mean I guess it's a girl thing."
But things come around – and Ronnie and Sweetheart make a love so beautiful that evening MTV had to cut shots of fireworks in between the clips. "We smushed," said Ronnie. And since Ronnie needs a nickname, we're going to call him Smush from now on.
Pauly D and The Situation go out for the usual guido-ing the next day – tanning, haircuts, gym. "I'm at the gym for an hour-and-a-half, working on my fitness," says The Situation. There's also this great line from Ronnie about The Situation's lack of landing the ladies: "Mike would bang a Gatorade bottle if it had a pulse at this point."
Then something occurred which needs to be seen to be believed – so we made it a video.
>>> NEXT PAGE: Snooki dances like nobody's watching…but they are.
Have a tip we should know? tips@mediaite.com