Jersey Unsure: Idiot-Scolder Chris Christie Doesn't Know How Press Conferences Work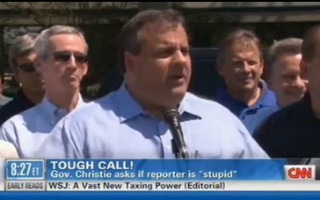 On Monday morning's edition of CNN's Starting Point, host Brooke Baldwin (filling in for Soledad O'Brien) and panel discussed New Jersey Governor Chris Christie's latest use of his favorite vocabulary word, as he called a reporter an "idiot" for asking an off-topic question. While panelists Abby Huntsman and Marc Lamont Hill agreed Christie was "rude," while Margaret Hoover chalked it up to "style," they all missed the fundamental weakness of Christie's move.
In case you missed it, New Jersey Governor Chris Christie held a press conference on Saturday, at which he announced he would only be taking questions about the water emergency in the central part of the state. When one reporter tried to ask a question on a different topic (the Governor's recall of the state legislature for a special session), Gov. Christie asked if he was "stupid," called him an "idiot," and ended the press conference.
Abby Hunstsman made the excellent point that Gov. Christie is held to a very different standard than President Obama. "If we had heard President Obama say that to somebody, I think that would be a huge story," she said, a contrast which becomes all the more instructive when you consider how the President reacted to a reporter who actually was out of bounds.
Columbia University professor Dr. Marc Lamont Hill later called Christie's behavior "mean and abusive," adding, "That's what Chris Christie is."
Conservative commentator Margaret Hoover, however, gleefully defended Gov. Christie, saying "This is exactly what people love about Chris Christie. They love that he's authentic, that he's real and, look, we have the rules, we have the ground game. You broke them. you're out."
Hoover's comment illustrates the fundamental problem with Christie's behavior. Christie's abrasive style is a matter of taste, and there probably is an appetite among the American electorate for a politician who calls opponents "numbnuts," or a Navy SEAL an "idiot," and in a way, I'm right there with him. The more blunt and honest politicians' speech is, the more it tells us about them.
However, the shiny object that is Christie's "style" is obscuring the fact that, in this case, he was dead wrong. Every politician has in mind a topic, or topics, that they would like to speak about at every press conference, and it is not unusual for reporters to be encouraged to stay on that topic or topics.
It's also not unusual, though, for reporters to ask whatever question they want to ask, as is their constitutional duty. The "rules" that Margaret Hoover referenced don't include only asking questions that Chris Christie wants to answer. A ballplayer is well within his rights to step up to the plate and demand only chest-high fastballs (but not too fast) down the middle, but when the pitcher throws a slider, the batter can't just call him an idiot and storm back to the dugout. He doesn't have to swing at every pitch, but he has to stand in there and take them.
It's an important distinction to make, because conservatives are particularly adept at trying to manipulate the public's perception of the rules of journalism, trying to convince them that interrupting someone in the middle of a speech is fine (a rule change that would make it impossible for anyone to complete a speech ever), but asking someone what they read is some kind of tricky Gaylord Perry spitter.
There are fine and decent reasons for a politician to want to remain on topic. During the BP Oil Disaster, there were many White House briefings that began with a Q and A period with emergency response personnel like National Incident Commander Admiral Thad Allen, and Press Secretary Jay Carney would ask that questions on other topics be postponed until Adm. Allen was finished.
Gov. Christie could have set aside time to answer off-topic questions at the end of his presser, but chose not to, and in doing so, was essentially asking a favor of the press corps. In refusing to answer that reporter's question, he would have been better served by explaining himself. His desire to respond to the water emergency was undoubtedly motivated by a sincere sense of responsibility to the residents of his state, but he ought to have explained why he couldn't do that first, and then answer questions on other topics important to those same folks. Calling someone an idiot may sound tough, but taking your ball and going home is just childish.
Here's the clip, from CNN's Starting Point:
Have a tip we should know? tips@mediaite.com