Jesse Jackson Blasts Adidas 'Shackle' Shoes: 'Gross Insult' That Evokes 246-Year 'Slave Cycle'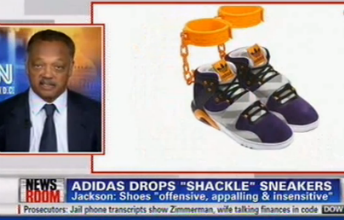 This morning, sports apparel company Adidas announced that it will cancel the sale of its new JS Roundhose Mids basketball sneakers with rubber shackles attached to them, which have been denounced by black leaders as "slave shoes." The company said the shoes had nothing to do with slavery, and were just the designer's unique take on fashion, but will cease plans to market the shoes in August. On CNN Tuesday morning, Jesse Jackson spoke out about the shoes, calling them a "gross insult" evoking a 246-year "slave cycle."
"I am stunned at the insensitivity," Jackson said. "It was a gross insult. We were prepared to engage in a boycott in 50 markets. We contacted Adidas yesterday and contacted [National Basketball Association Commissioner] David Stern, who, in turn, within a few minutes called Adidas and had it cancelled. They cancelled it because they got a call from David Stern and the threat of a real boycott," Jackson proudly declared.
Host Carol Costello then shared with Jackson a reader email from "Lonnie," who said that "People wonder why we can't move on from this issue. … I can't believe this is even an issue. It's just a pair of ugly shoes."
Jackson responded that "It's according to what your sensitivity zone is. I mean, the slave cycle — it's a 246-year experience, connected to Jim Crow. We are fighting these battles now to make us better. It's offensive. It may not be offensive to the blogger, but it's surely insensitive to a whole bunch of people."
Costello challenged Jackson, saying, "I think this person was saying, you know, we want to move past all of the stuff. Why just not bother with things like tennis shoes and talk about something really important?"
"I don't think that you can ask women to move past issues of women's rights given the gross violations of women," Jackson replied. "Or ask people who are gay or native american or jewish. We must, in this multicultural environment, be sensitive and caring. This insulting, insensitive, provocative, and wrong."
Costello then asked whether Adidas' market removal and apology was enough.
"That's a step in the right direction. Remove it from the market and, next time around, don't make the same mistake again."
Check out the clip below, via CNN:
>> Follow Andrew Kirell (@AndrewKirell) on Twitter
Have a tip we should know? tips@mediaite.com