Jesse Jackson Predicts 'Somebody Shoot[ing] An AK-47 In The White House' As A Result Of GOP Criticism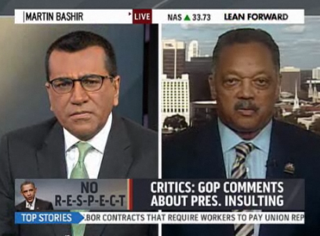 Jesse Jackson, Sr. is worried for the safety of the President. The Reverend made his way to Martin Bashir's show today, where he was asked to comment on Republican disrespect of the president. And while the conversation began on the topic of acceptable political discourse, literally within the same sentence Jackson turns around and warns of the possibility that "somebody shoots an AK-47 in the White House." Huh?
RELATED: MSNBC's Martin Bashir Rips Rep. John Walsh Over Unpaid Child Support
Bashir rattled off a laundry list of Republican bad behavior, from Arizona governor Jan Brewer pointing at the President to Rep. Joe Wilson shouting "you lie!" to Newt Gingrich using the term "food stamp president." "Why do Republicans think this is acceptable behavior in public?" Bashir asked.
"Demonizing the President is both morally wrong and dangerous," Jackson began, citing "the continued demonization and then somebody shoots an AK-47 in the White House… to demonize him and demonize the poor is unacceptable." Noting that there wasn't much of an explanation here, Bashir pressed on, asking whether Jackson was predicting "some sort of terrible outcome." "Ignorance and hatred and violence is in a certain pattern," Jackson continued, citing Dr. Martin Luther King, Jr. and noting that "George Wallace never hit anybody."
"I've seen, sir, that remarkable photograph of you on the day Dr. Martin Luther King was murdered," Bashir replied, "are you saying that Barack Obama's very safety is being imperiled?" "Absolutely," replied Jackson, "ignorance and hatred leads to violence." He went on to argue that "there is something unholy about this." Seems like we're a long way off from the days Jackson was privately calling for President [then Senator] Obama's castration.
The segment via MSNBC below:

Have a tip we should know? tips@mediaite.com