Jesse Jackson To Rachel Maddow: 'Anti-Obama Mania Sweeping The Country' And We 'Ought Fight Back'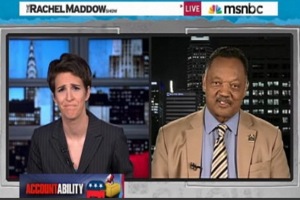 Rachel Maddow was curious why now all of sudden, many states are trying to change voting laws and concluded "it is getting harder to vote, and the way it's getting harder to vote targets likely Democratic voters." Her guest, Jesse Jackson agreed, but he also put the struggle for voter rights in the larger context of the need to compete against anti-Obama mania that seeks to "undermine democratic access."
Jackson suggested the current debate over the debt ceiling is another example of where Obama's opponents are just eager to oppose everything he says:
"Here we are at this time trying to strip the number of days [allowed for voting], make voting more expensive and less accessible. This is the part of the anti-Barack Obama-mania that's sweeping the country. These are the same people, you know who, under Bush, raised the debt limit 19 times, 4 trillion dollars . . . this is not about raising the debt limit, this is about in fact another way to undermine this President. We as a people, as a nation, ought fight back."
Returning to his concerns about new voting restrictions being pursued in states with Republican governors, Jackson argued that the same people who denied the right to vote in the past are now trying to suppress it. He also claimed each state has its own "scheme" to undermine access and that "they're targeting students, seniors, disabled, black and brown people." And with Jackson on the case and presumably willing to lead this "fight" it will be interesting to see if the Obama Justice Department answers his call to investigate these new voting restrictions.
Watch the clip from MSNBC below:
Have a tip we should know? tips@mediaite.com