Jesse James: "I Was A Terrorized Kid" Who Went To Rehab For "Childhood Abuse"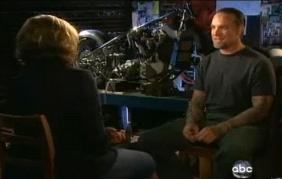 ABC News landed the exclusive first interview with Jesse James, as Nightline's Vicki Mabrey landed what amounted to a follow-up to her 2004 profile of Sandra Bullock's husband.
While Bullock was the major topic, James' childhood abuse by his father was the most emotional point – and his "main" reason for going to rehab.
Before her 2004 interview, Mabrey said "the bad boy and the girl next door were an item" but at the time James didn't want to talk about it. Six years later, the circumstances changed drastically. Mabrey brought up the Bullock acceptance speeches during her victories for The Blind Side, which took on a very different light just a couple weeks later. "I don't think it was just at award shows, I think it was everyday in life," James said, that he thought about getting caught.
When it came time to talk about rehab, the interview broke some news. While he said "sex addiction" and "anger management" were reasons he went, "the main thing I went there for was being a victim of childhood abuse." This became the emotional core of the interview – James said he "was a terrorized kid," and later, describing his young daughter, "Sunny's the age I was when my dad broke my arm."
He broke down at this point, asking to stop the interview, fighting back tears. This was teased in the preview on Good Morning America earlier this week, although many would have probably thought the tears came while discussing Bullock.
As for sex addiction:
I don't think I have a sex addiction, where I'm running around trying to have sex with everyone and I can't stop. I think I do things to sabotage my life, including having extramarital affairs.
James disputed charges he's racist, discussed Bullock's new adopted child and said he has hopes of saving "some sort of relationship with Sandy."
Judging from the emotional support Bullock has, James likely didn't win over many fans here. But he got his perspective on the record, and had a platform to reveal the truth behind his rehab trip. As for ABC, the interested audience will likely be large, and the multi-platform roll-out helped as well.
Here's the full interview:




—–
» Follow Steve Krakauer on Twitter
Have a tip we should know? tips@mediaite.com