Jesse Ventura Leaps To Defend Hugo Chavez From US Media's 'Lying Manipulation'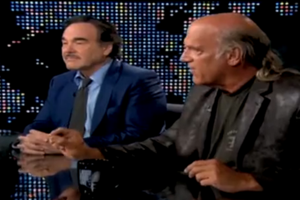 When director Oliver Stone made his film South of the Border to try to convince Americans that Venezuelan leader Hugo Chavez is more than a goofball variety TV show host with blood-lust, one of the last people he was probably hoping to get as an advocate for his cause is Jesse Ventura. The former wrestler-governor sprung to Chavez's defense on Larry King Live last night, calling for Stone's film to be a staple of American school systems.
"I think this video should be mandatory viewing for every high school senior in America," Ventura told Larry King next to a mustachioed Stone and Florida Congressman Connie Mack. "The key to this film is the lying manipulation of our mainstream media," he continued, arguing that he has repeated been a victim of the media's distortion "and how they flagrantly lie to us, and I'm a person who knows the experience well, being an independent." Ventura was probably referring to media opposition during his tenure as governor of Minnesota, or several of his public appearances where he suggested the government was "in on" the September 11 attacks, which made him look bad.
Congressman Mack tried to bring the conversation back to earth, reminding people that Ventura was talking about a leader who has faced accusations of several civil rights violations and, as he put it wouldn't allow [this conversation] to happen" He added, somewhat hopelessly, that he didn't "understand what it is that's in your mind when you want to subject our children to the thoughts and ideas of someone like Hugo Chavez who supports the FARC." Ventura answered that he had met Fidel Castro, something he thought Rep. Mack was likely not to have done before.
Video below:

Have a tip we should know? tips@mediaite.com