Jesse Ventura Rants On Bradley Manning, IRS, And Suing Navy SEAL's Widow With A Skeptical Piers Morgan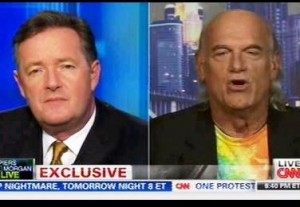 Former Minnesota governor and professional wrestler Jesse Ventura joined Piers Morgan tonight for a lively discussion ranging from the big scandals in Washington to the trial of Bradley Manning to whether Ventura would finally dip his toes in the presidential water after sitting out for the last two cycles. Ventura bashed the Obama administration for overreach in the IRS and AP scandals, while declaring that public trust in parties is so low, a third party candidate like himself could easily win in 2016.
RELATED: Jesse Ventura: 'Tough Guys' From Fox News Can't 'Intimidate' Me, So They Banned Me
Ventura first reacted to the day's big Supreme Court ruling allowing police to collect DNA samples for anyone who gets arrested, not just people who are convicted of crimes. Ventura decried this as an "assault on our bill of rights."
On the Bradley Manning trial, Ventura praised the ex-army private as 'necessary whistleblower" who got important information to WikiLeaks, thereby bringing it to the public's attention. Ventura admitted that there are things that the government can't reveal, but "after it's all over," documents should not be labeled top secret and withheld from the public, declaring that taxpayers have a right to know what the government is up to. Morgan challenged Ventura, saying that Manning potentially put people's lives in danger. Ventura shot back with a question: "If you're seeing something that you deem to be murder, how do you sit on that?"
In the second segment, Ventura said that 2016 "would be the year" to finally run for president, since there's no incumbent in the race and people are hungry for a third party candidate. Venture said that enough people are "completely disgusted by both of these political parties" so they would welcome an independent candidate.
After a brief discussion about the IRS tea party targeting, Morgan then turned to a slightly sensitive subject: Ventura's lawsuit against the widow of Navy SEAL Chris Kyle, who was fatally shot at a Texas gun range earlier this year. Morgan confronted Ventura over whether he thinks it's at least "slightly uncomfortable" to be suing a dead man's widow. Ventura argued that the lawsuit is about clearing his name after Kyle accused him of starting a fight. Ventura said he feels "totally fine" going to court with Kyle's widow, saying that he couldn't possibly run for political office in the future with this hanging over his head.
Watch the full interview below, courtesy of CNN:
—–
Follow Josh Feldman on Twitter: @feldmaniac
Have a tip we should know? tips@mediaite.com
Josh Feldman - Senior Editor