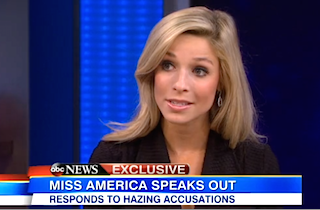 Yesterday, Jezebel published damning accusations against Miss America winner Kira Kazantsev, claiming that she had been kicked out of her sorority in college for extreme hazing and abuse of other students. Today, ABC, the same network that airs the Miss America pageant, invited Kazantsev to defend herself on Good Morning America.
"They are not true," Kazantsev said of the reports from Jezebel, adding that she is "incredibly hurt that someone has said these things" about her. "All I can do is sit here and be honest and share that, yes, I was involved under the broad definition of hazing at some point, but never ever in a million years what this is claiming to hold," she said.
Following the interview, Jezebel editor Erin Gloria Ryan, who filed the initial report, issued some harsh criticism of Good Morning America and interviewer Lara Spencer for what she viewed as a "deliberately misleading" report.
"It should also be noted that in 'reporting' on this story, GMA did not reach out to me or anyone at Jezebel for comment or clarification; they just had Kazantsev on to deliver her talking points to a sympathetic anchor on the TV home of Miss America," Ryan wrote. "If ABC had reached out, they would have known that since the story ran, we've learned more, and that things are still developing on our end. It would have been a tougher interview. But that's clearly not what GMA wanted."
Later, she described morning shows in general as "circle jerks performed by real journalists who have reached the point in their illustrious careers when they can stop doing anything useful and start cashing in by providing voiceovers for what boils down to live advertisements" and declared that the segment "isn't just unprofessional — it's deliberately misleading."
"The kids would call it bullshit," Ryan concluded.
Watch the interview video below, via ABC:

More ABC news videos | Latest world news
[Photo via screengrab]
— —
>> Follow Matt Wilstein (@TheMattWilstein) on Twitter
Have a tip we should know? tips@mediaite.com