'Jihad Theater': Michelle Malkin Blasts Naïve Americans Taken In By 'Manipulative' Gitmo Hunger Strike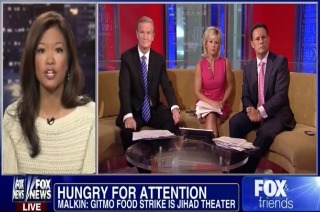 Conservative columnist Michelle Malkin joined the hosts of Fox & Friends on Thursday where she chided the American public for being manipulated by the Guantanamo Bay detainees and their sympathizers. She said that, while the public is focused on a manufactured hunger strike, September 11, 2001, mastermind Khalid Sheikh Mohammed is being allowed vacuums to disassemble and reassemble and candy bars. Malkin and the Fox hosts called the detainees hunger strike "jihad theater."

Malkin called the individuals supporting the Guantanamo detainees "Gitmo swindlers" who she said have been "foisting all sorts of fables on the world with help from a lot of these trans-nationalist groups and left-wing, bleeding heart lawyers who are trying to cast every last detainee as some poor, innocent potato farmer."
RELATED: Rapper Subjects Himself To Gitmo-Style Force-Feeding, Concludes…
"I think what the American people need here is a reality check about how manipulative Al Qaeda operatives and their sympathizers are," Malkin said. She noted that the goal of anti-Guantanamo activists is to shut the prison down rather than to protect human rights.
Brian Kilmeade asked Malkin about the guards allowing Mohammed a vacuum to tinker with as a means of maintaining his sanity. "It's part of the whole Gitmo coddling mentality," Malkin asserted. "Apparently we're indulging his tinkering penchant and fetish."
She said that the focus of the public should not be on the prison's hunger strikers but on Mohammed's vacuum and the fact that he is allowed to have candy bars.
Watch the clip below via Fox News Channel:
> >Follow Noah Rothman (@NoahCRothman) on Twitter
Have a tip we should know? tips@mediaite.com