Jill Abramson Tells CNN: 'I Don't Want To Be In A War With Arianna Huffington'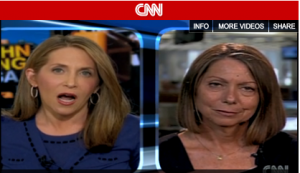 Last night, Jill Abramson, the new executive editor of the New York Times gave an interview to CNN's Jessica Yellin.
Yellin congratulated Abramson for "shattering a glass ceiling" at The Times, giving her the catchy title of "The Grey Lady's Leading Lady". The two discussed some of the implications of being the first female executive editor at the paper but Abramson seemed relatively unconcerned about the impact her sex would have on her editing. She was far more eager to discuss issues like the implications of the digitalization of news, accusations that The Times has a liberal bias and how she would differ from her predecessor on views of The Huffington Post.
The increasing digitalization of news is an issue that is changing journalistic practices, but at the helm of a paper that has made its mark as just that, a paper, Abramson was optimistic about the future of print. Although she refused to speculate how much longer we will be reading actual papers, she called the transition to online media "thrilling but challenging". She was also careful to note that "there are plenty of people who still find the print edition of The New York Times to be indispensable to their lives" and revealed that the circulation of the paper has actually gone up in the past year. About 840,000 people still receive the print edition of The Times.
On the subject of the frequent accusations that The Times has a liberal bias, Abramson was somewhat dismissive. "We are seen as fair and authoritative by our readers," she said, "that comment… has been around for as long as I've been at The Times." She did not believe that the accused liberal bias would complicate reporting on the GOP primaries and attributed louder complaints to the increasingly bitter polarization between political parties.
Abramson's predecessor, Bill Keller was always vocal about his distaste for Arianna Huffington's journalistic practices but Abramson was considerably more supportive of Huffington, saying that she doesn't want to be "in a war with Huffington" when Yellin asked if she felt that papers like The Huffington Post were hurting journalism:
I wouldn't go that far. I think that the aggregation of pieces of journalism that other news organizations have paid dearly to get the story, get it right, tell the story behind the story poses a threat to us in some ways. But I respect the fact that an awful lot of people like to read that way. In some cases The Huffington Post has been inventive and presents what it aggregates well.
Overall the interview presents Abramson as a strong figure who seems unafraid of the murky waters that surround journalism today and it will certainly be interesting to see what will be changing at The Grey Lady under her editorial leadership.
Watch the clip below:
Have a tip we should know? tips@mediaite.com