Jim Carrey Renounces His Own Movie Kick-Ass 2 Post-Newtown: 'I Cannot Support That Level Of Violence'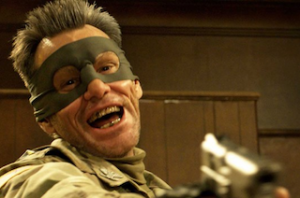 Jim Carrey has not been shy about his opposition to guns since December's Sandy Hook Elementary School shooting, but now he's taken it to the next level. The actor publicly condemned Kick-Ass 2 on Twitter this weekend, a film he shot just before those shootings. "Now in all good conscience," he tweeted, "I cannot support that level of violence."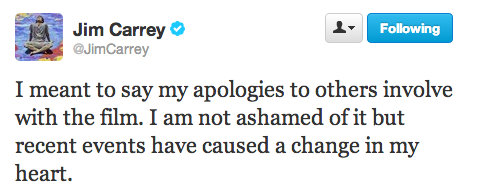 Carrey portrays vigilante superhero Colonel Stars and Stripes in the sequel to 2010's Kick-Ass, and his comments suggest that he won't be partcipating in any publicity for the film, which is scheduled to open in August. Perhaps Carrey is attempting to avoid some the backlash that has hit actors who have spoken out for stricter gun control measures but can be seen shooting (fake) guns in many of their past film and television roles.
Mark Millar, who wrote the comic books upon which the Kick-Ass movies are based, responded to Carrey with an open letter on his website. Millar prefaced his comments by saying, "I love Jim Carrey," but then went on to say "I'm baffled by this sudden announcement as nothing seen in this picture wasn't in the screenplay eighteen months ago." He added, "Ultimately, this is his decision, but I've never quite bought the notion that violence in fiction leads to violence in real-life any more than Harry Potter casting a spell creates more Boy Wizards in real-life. Our job as storytellers is to entertain and our toolbox can't be sabotaged by curtailing the use of guns in an action-movie."
Carrey found himself to be the target of conservatives, and particularly Fox News' Greg Gutfeld, after he released an anti-gun video for Funny or Die called "Cold Dead Hand" back in March. Gutfeld, along with other conservative commentators like Ann Coulter and Laura Ingraham spent the next several days tearing into Carrey for being hypocritical on the issue of guns and disrespectful to the legacy of Charlton Heston.
Watch the red band trailer for Kick-Ass 2 below, via YouTube:
—
>> Follow Matt Wilstein (@TheMattWilstein) on Twitter
Have a tip we should know? [email protected]