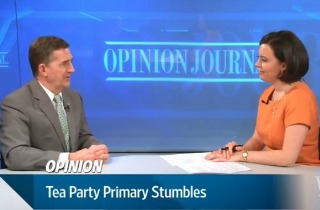 Former U.S. Senator and President of the Heritage Foundation, Jim DeMint, joined WSJ Live host Mary Kissel on Tuesday where he was pressed for his thoughts on why insurgent tea party challengers are not faring well this year in primary challenges against incumbent Republicans. DeMint insisted that he could not opine on individual races because Heritage is not a political organization and added that he has never been "a part of the tea party." He admitted, however, that he has "been to a lot of meetings."

Kissel pressed DeMint to explain why tea party candidate Matt Bevin is losing ground in his race to challenge Senate Minority Leader Mitch McConnell (R-KY) for the GOP nomination in Kentucky. "We're not involved in that," DeMint said. "Heritage doesn't get involved in elections."
"Well, philosophically you back Matt Bevin," Kissel probed.
"I'm not involved with it at all," DeMint shot back. "What we're doing is trying to cultivate the right ideas."
"You're seen as one of the backers – one of the intellectual godfather of the tea party," Kissel said. "So, whether or not, financially, Heritage backs these candidates is a separate issue."
She pivoted to Kansas where a second tea party candidate is trailing the incumbent Republican. "You can't say one candidate is tea party and the other is not," DeMint said.
"Oh, come on, Senator," Kissel interjected. "Milton Wolf, Matt Bevin, Steve Stockman in Texas. They're all running under the tea party banner and they're all trailing by double digits. Why?"
"I don't know if they're calling themselves tea party candidates or not," DeMint replied. "I'm called a senator tea party and I've never been a part of a tea party in my life. I've been to a lot of meetings."
He said that the organizations associated with the tea party have been "vilified," which could partially account for these candidates trailing their incumbent opponents.
Watch the segment below via WSJ Live:
[Photo via screengrab]
— —
> >Follow Noah Rothman (@NoahCRothman) on Twitter
Have a tip we should know? tips@mediaite.com