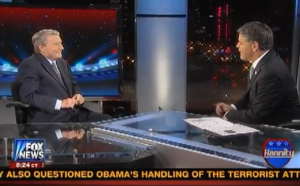 Jim Lehrer sat down with Sean Hannity on Monday night to talk about his already much-discussed performance as moderator of the first presidential debate. While there was a slew of criticism initially, Lehrer said, nobody's blaming him for anything now.
Asked about the reaction, Lehrer said, "I'm not really keen on criticism." However, that came toward the beginning, he said, and it's "pretty much gone away now." People realize "spin doesn't work if everybody's seen the event," he added — and they know what they saw.
"Nobody's blaming me…for anything," Lehrer said. Whatever happened, whether you think it was good or bad, was made possible by the format of the debate — and Lehrer said, "All I did was implement the format."
Lehrer went on to speak a bit about the progression of how debates have grown more "open," allowing candidates to address and challenge each other. They're less controlled now, he said. The new format doesn't always work, he said, if the candidates don't "play" (e.g., John McCain).
The new format also "redefines" the role of the moderator, Lehrer said. Nonpartisans criticized him as well, he added, for not following up or challenging. Any challenging that took place was going to come from the candidates, Lehrer said.
Asked about whether he gets nervous, Lehrer asked, "How could you not be nervous?" And it's so much worse for the candidates, he added.
"Do you get a sense while it's going on…that one is winning the debate?" Hannity asked.
"No," Lehrer replied. "I completely turn off the judgment function of my brain."
The segment below, via Fox News:

Have a tip we should know? [email protected]