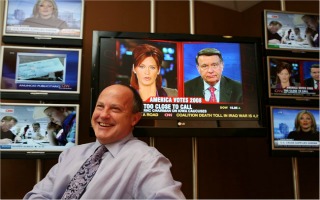 Jim Walton, president of CNN Worldwide, announced Friday that he is leaving the ratings-troubled cable news network. The AP says that Walton is leaving because he believes the network needs "different leader with a new perspective and plans."

Walton built CNN into a profitable international news organization in his 10 years as boss. But the U.S. flagship network has suffered through some historically poor ratings in the past few months and is entrenched in third place behind rivals Fox News Channel and MSNBC in prime time. He announced his decision in an email to staff on Friday.

CNN historically suffers in the ratings during slow news periods, a fate Fox and MSNBC have minimized for themselves with partisan shows in prime time. Walton has resisted this approach, believing CNN's strength lies in being a nonpartisan news source.
Walton released a letter to CNN's staff on Friday in which he thanked them for their dedicated service and said his goodbyes:
After more than 30 years at this company and nearly 10 years as the leader of this great news organization, I have decided to leave my role at CNN on December 31, 2012.

For some time, I've been talking with Phil Kent about wanting to make a change, and he supports my decision. I've told Phil that I will cooperate with any transition timeline that he and Time Warner want to implement. Phil requested that I work out the year and be available after that if needed, which I've agreed to do.

I am proud of what we have accomplished together over these last 10 years – innovative programming, the development of great talent in front of and behind the cameras, expansion in digital and mobile, significant investment and expansion in international coverage, financial success and, most importantly, great and trusted journalism. Thank you for the role you have played in our successes.

CNN needs new thinking. That starts with a new leader who brings a different perspective, different experiences and a new plan, one who will build on our great foundation and will commit to seeing it through. And I'm ready for a change. I have interests to explore and I want to give myself time to do it.

The next few months will be filled with election news and other important events that will require all of our focus to report the news with the quality and expertise the world expects of CNN. I look forward to working alongside each of you, as I have over the past 30-plus years, to do just that.
Walton went to work for CNN after graduating from the University of Maryland in 1981 in an entry level position and eventually worked his way up to become the network's president.
h/t AP
> >Follow Noah Rothman (@Noah_C_Rothman) on Twitter
Have a tip we should know? tips@mediaite.com