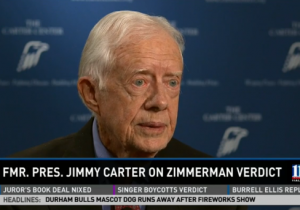 President Obama put out a statement about the George Zimmerman verdict that did not go far beyond calling Trayvon Martin's death a tragedy and asking the public to respect the decision. Meanwhile, former president Jimmy Carter believes the jury made the right decision, saying that the prosecution was not able to prove its burden of Zimmerman's deliberate guilt.
Carter told NBC affiliate 11Alive on Tuesday that he agrees with the jury's ruling and expressed his confidence that whatever sympathies or moral judgments the jurors had were secondary to their obligation to abide by the letter of the law.
"I think the jury made the right decision based on the evidence that was presented, because the prosecution inadvertently set the standards so high that the jury had to be convinced it was a deliberate act by Zimmerman, that he was not at all defending himself, and so forth. It's not a moral question, it was a legal question, and American law requires that the jury listen to the evidence presented."
He noted how the prosecution carefully avoided the issue of race, and suspected that the jurors only made their judgments based on evidence and didn't let that factor in. In response to a question about whether race has become a hugely divisive issue in the United States, Carter noted there have been "outbreaks" of things like race riots and assassinations, but concluded that whatever resentments people have are brushed aside in favor of looking ahead to a more harmonious future.
Watch the video below, via 11Alive:
—–
Follow Josh Feldman on Twitter: @feldmaniac
Have a tip we should know? tips@mediaite.com
Josh Feldman - Senior Editor