Jimmy Carter Tells MSNBC He Would Be 'Comfortable' With A Romney Presidency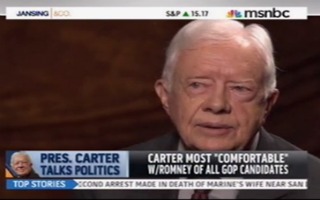 Former President Jimmy Carter appeared on MSNBC's Jansing & Co. with Chris Jansing on Wednesday where he weighed in on the 2012 presidential election. Carter told Jansing that he believed President Barack Obama would win a second term in November, but he would be "comfortable" with a Mitt Romney presidency and that "Romney has shown in the past in his previous years as a moderate – a progressive – that he was fairly competent."

RELATED: Jimmy Carter: I Never Have Believed That Jesus Christ Would Approve Of Abortions
In the interview, Jansing asked Carter for his assessment of what President Obama's reelection chances and what he thought of former Massachusetts Gov. Romney.
"I think President Obama will be reelected," said Carter. "I think of all the Republican candidates who were prominent, I think Romney would be the one that I would rather see have the slight possibility to be president."
"You'd be comfortable with a Romney presidency," Jansing followed up.
"I'd rather have a Democrat," said Carter. "But I'd be comfortable. I think Romney has shown in the past in his previous years as a moderate – a progressive – that he was fairly competent as a governor and also running the Olympics."
Carter went on to praise Romney as a good "family man," but said that he has moved to the "extreme right-wing" on some issues over the course of the Republican primary campaign. Carter is, however, certain that Romney will move towards the center as the general election progresses.
"Do you think that he has gone too far into the conservative positions and do you think that makes him difficult to be trusted," asked Jansing.
"I think he's gone too far in the conservative positions to suit the average American," Carter replied. "That's why I think President Obama is going to be reelected."
Carter continued, saying that Romney has a reputation of being "changeable" in his positions, which is why he believes the former governor will move to the center ahead of the fall.
Jansing asked Carter if he believed that this election, as she conceded is said every year, is the most divisive and partisan, to which carter replied in the affirmative. "We didn't dream of running a negative commercial on television that would destroy the character of our opponent," said Carter. "It would have been suicidal for the ones who did that.
Carter condemned what he called the "massive infusion of money into the political arena" has been a cause of much of the negative campaigning in recent election cycles. Carter also strongly condemned the Supreme Court ruling Citizens United which allowed for unlimited private spending in elections. "The stupid Supreme Court ruling of more than two years ago saying that corporations are people has exacerbated – or made much worse – an already existing bad situation."
Watch the interview below via MSNBC:
Have a tip we should know? tips@mediaite.com