Jimmy Carter: 'We'd Have Comprehensive Healthcare By Now If Not For Ted Kennedy'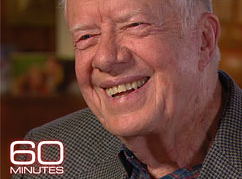 In 2008, an ailing Senator Ted Kennedy gave a speech at the Democratic National Convention that focused, in part, on the political issue closest to his heart: health care. "This is the cause of my life," he said, adding that he hoped one day soon, "will break the old gridlock and guarantee that every American—north, south, east, west, young, old—will have decent, quality health care as a fundamental right and not a privilege."
But according to former President Jimmy Carter, Kennedy himself is to blame for Americans' lack of coverage. In a new interview with 60 Minutes correspondent Lesley Stahl, Carter claims that Kennedy deliberately blocked health care legislation the then-President proposed in the late '70s.
"The fact is that we would have had comprehensive health care now, had it not been for Ted Kennedy's deliberately blocking the legislation that I proposed," he says. "It was his fault. Ted Kennedy killed the bill."
Carter and Kennedy were political rivals; Stahl even calls Kennedy Carter's "nemesis." In the diary he kept while in the White House—which Carter has adapted into a new book that's being released on Monday—Carter made frequent, disparaging mentions of Kennedy, writing sentences like this one: "Kennedy, continuing his irresponsible and abusing attitude, immediately condemned our health plan. He couldn't get five votes for his plan."
Carter believes Kennedy shot down his health care bill simply out of spite: "He did not want to see me have a major success in that realm," he tells Stahl.
The full interview will air on CBS this Sunday, September 19, at 7pm. In it, Carter also discusses his energy conservation program—"Unfortunately, now we're probably importing 12 million barrels a day, since part of my energy policies were abandoned," he says—and the mistakes he made as president.
Have a tip we should know? tips@mediaite.com