Jimmy Fallon and Seth Meyers Reveal Everything You Need to Know About NBC's Big Late Night Shakeup
Fallon and Meyers Reveal Everything You Need to Know About NBC's Late Night Shakeup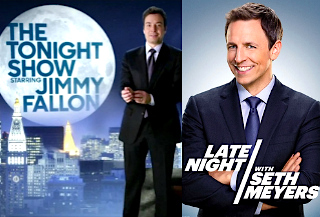 On Sunday, Jimmy Fallon and Seth Meyers came to the Television Critics Association press tour to reveal some new details about NBC's upcoming late night shakeup that will see Fallon replacing Jay Leno at the Tonight Show and Meyers leaving Saturday Night Live to move into the hosting gig at Late Night. Below is everything you need to know about next month's big transition, from Leno's last show, to the premieres of the Tonight Show Starring Jimmy Fallon and Late Night with Seth Meyers.
Fallon's first guests:
When the Tonight Show Starring Jimmy Fallon premieres on February 17th, the host will welcome Will Smith and U2 to his New York studio. "He's a big Hollywood star," Fallon said of Smith, who has appeared with him on Late Night, "and he always brings it every time he goes on a talk show." He added that he had been pursuing U2 as a musical guest for a long time on Late Night.
Meyer's first guests:
As he previously has indicated, fellow SNL alum Amy Poehler will be Meyers' first guest when he premieres on Monday, February 24th. "She's basically Bono's common-law wife now," Meyers joked, in reference to Poehler's make-out session with the U2 front man after she won her first Golden Globe Award. Meyers will sign-off from the SNL Weekend Update desk, passing the torch to Cecily Strong, on February 1st.
Leno's last guests:
Also announced at TCA were the guests for Leno's final Tonight Show on Thursday, February 6th. Billy Crystal, Leno's first-ever Tonight Show guest from May 25th, 1992, will return along with musical guest Garth Brooks.
Fallon on the Conan O'Brien-shaped elephant in the room:
"After the whole Conan‑Jay thing went down, I called up Jay, and I said, 'Hey, I just want to let you know that I'm not gunning for your position at all. I'm very happy at 12:30AM… I'm in New York. I'm trying to have a baby. I'm very happy at my job.' So he goes, 'I appreciate that.' I said, 'And when eventually you decide to step down, let's do it the right way.' And he said, 'Yeah, of course.' You just felt it was different from then on. We talk to each other every couple weeks, always giving me advice, all the way up 'til now. He called me and said, 'I think this is going to be the year,' and I said, 'All right.' And he goes, 'I'd love for you to be the next guy. I think you're going to be great.'"
Who's on the top of Meyers' guest wish-list?
Hillary Clinton. "I'd love people that are big political players who have a lot of influence in what's going on in the world but we're open to everybody," he said.
Leno's advice for Fallon:
Leno told Fallon he should expand his monologue, which currently runs in the 3-4 minute range to a longer 10 minutes. "People are busy, work hard, they may have missed the news, so you have to give them a complete view of the news," Leno said. Fallon agreed.
What Fallon told New Jersey Governor Chris Christie in his heads-up about the Bruce Springsteen "Born to Run" parody.
"First of all, the bit was funny. I knew that," Fallon explained. "You have to go with that first when making these decisions. Secondly, I let Chris Christie know we were doing it. And I said, 'The silver lining is Bruce Springsteen says your name.' I haven't heard back yet."
Watch NBC's promos below for the Tonight Show Starring Jimmy Fallon:
…and Late Night with Seth Meyers:
[photos via NBC]
— —
>> Follow Matt Wilstein (@TheMattWilstein) on Twitter
Have a tip we should know? tips@mediaite.com