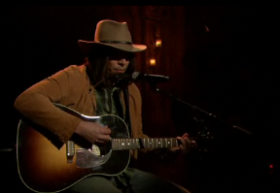 Is it just me, or have the late-night wars been awesome for Jimmy Fallon?
Never mind ratings, though I'm sure the Conan bump has spilled over, as these things are wont to do — but Late Night With Jimy Fallon has just been stellar of late. I noted earlier this week that Jimmy's show has developed a very strong identity, incorporating the Roots, the audience, special guests, stunts and sketch material, and the other day I cited the next-level brilliance of the "Graphics Guy Head Swap" sketch. Fallon and his team have figured out not only what makes good-time late(r)-night TV (I am a sucker for "Lick It For Ten"), but they do exactly what Jimmy said was his main goal — and his main lesson from Jay and Conan: "Have fun, keep trying new things, and don't take anything too seriously."
Which leads us to the Neil Young version of "Pants On The Ground," as imagined by Jimmy Fallon. Which is, in a word, awesome. (The American Idol original is awesome, too, but in a whole other way.) But also, it's good. And damn accurate — at first I really thought they'd gotten Neil Young to sing "Pants on the Ground" for Fallon. The whole thing was hilarious and wacky and smart and fun. It almost makes me sad that war between Team Leno and Team Conan is almost over, because wow has it been good for Team Fallon.
Video below.


p.s. This isn't the first time Fallon has covered Neil Young — here he sings the theme from the Fresh Prince. Of course.
Have a tip we should know? tips@mediaite.com