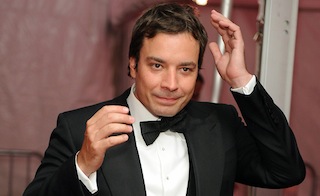 Last year, Billy Crystal returned to host the Academy Awards. The instant he took the stage, every single young person in the audience simultaneously tweeted "THE WRINKLES! THE HORRIBLE WRINKLES" and used their iTelekinesis to change the channel with their minds.
Ok, I'm joking. That didn't happen. No one under the age of 40 was tuned in to begin with. And that's been something that the telecasts producers have been trying to change for years with much failure (anyone remember the James Franco/Anne Hathaway combo show tune and performance art year?). However, they might be getting the host to do it this year with none other than Jimmy Fallon.
The LA Times is reporting that Fallon is currently in talks to emcee the show. The former SNL cast member, current talk show host, and (perhaps most importantly) experienced awards show host would bring along Lorne Michaels to produce the affair. Expect musical numbers and giggling.
Of course, there is one potential problem. While the Oscars producers may want Fallon, the network hosting the ceremony, ABC, might not be thrilled. ABC, which basically tied with NBC for last place in the network ratings last season, probably isn't champing at the bit to air a three hour commercial for the rival network's talent. Unfortunately for them, as the Times points out, they don't have veto power. Still it could be slightly uncomfortable when it comes time to promote. While there's been a long history of talk show hosts hosting the show, that history all took place before ABC had a late night show of their own in Jimmy Kimmel Live.
Whatever happens, one big question remains; whether or not Lorne Michaels thinks rehearsing is for fags.
(h/t The Playlist)
Have a tip we should know? tips@mediaite.com