Jimmy Fallon Returns To Piers Morgan To Talk Obama, SNL, And Being Imitated On Air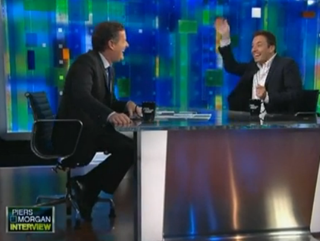 It's been a while since Jimmy Fallon visited Piers Morgan on his program, and tonight he came prepared with stories of President Obama and playing dodgeball in the White House, an impression of Morgan modeled after the current Saturday Night Live one, a guitar, and much more to talk about on set.

RELATED: Jimmy Fallon Tells CNN's Piers Morgan NBC's Original Decision To Replace Leno With Conan Was 'An Insult'
Fallon explained to Morgan that President Obama had seen his segment playing dodgeball and having a potato sack race with First Lady Michelle Obama, and through that they set up a meeting with him for his guest interview earlier this year. Morgan ribbed him a bit both about how the First Lady beat him in every physical challenge and the fact that they had said challenges at all: "Do you think you are enhancing the reputation of your nation and its great nation by having a potato sack race in the East Room?" Fallon took it in stride and explained why he was happy to promote the White House's programs: "I love the President– I love anyone who is President, I'm very patriotic." He also told the story of how he met President Obama, waiting for him with a sign with his name on it, introducing himself as "Marcus, your escort."
Morgan and Fallon also had a chat about Fallon's old job at Saturday Night Live, and the fact that Morgan had been honored with an impression by Taran Killam. "I have an issue with this guy," Morgan noted, because of the impression. Fallon did the impression back to him, calling it "fantastic," and Morgan confessed it made him "paranoid." "I've been morphing into Taran Killam's version of myself!" he joked, as he spoke in the voice he thought Killam used for himself. Fallon admits there was someone out there that did the same for him: Jerry Seinfeld, whose impression he did straight through the break.
The segment via CNN below:



—–
» Follow Frances Martel on Twitter
Have a tip we should know? tips@mediaite.com