Jimmy Fallon Should Ignore Jay Leno's Tonight Show Advice
Wilstein: Jimmy Fallon Should Ignore Jay Leno's
Tonight Show
Advice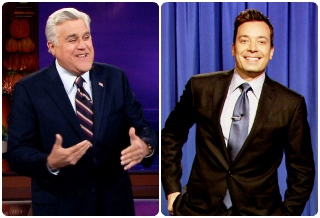 Tonight's the night. For the second time in five years, Jay Leno will host his final episode of NBC's The Tonight Show, leaving the iconic late night show in the more-than-capable hands of Jimmy Fallon. Over the last few weeks, Fallon has been revealing bit by bit what his version of The Tonight Show will look like, including the advice he plans on taking from Leno. But maybe that's not the best idea.
Yes, Leno is essentially being forced out of the Tonight Show chair while he's still at the top of the late night ratings heap. But while he continues to dominate the total viewers rankings, he has seen serious dips in the younger demographic, especially after Jimmy Kimmel made the move to 11:35pm.
On the one hand, Fallon must be eager to emulate Leno in any way he can in order to retain the audience that has been loyally tuning into NBC at that hour every night for the last 22 years. But on the other hand, he clearly wants to maintain the sensibility that has endeared his show to the younger audience that advertisers covet.
RELATED: 'Thank You, Jay Leno': Fallon Accepts the Tonight Show Torch
By moving The Tonight Show back to New York from Los Angeles and keeping Lorne Michaels as his executive producer and The Roots as his house band, Fallon has already sent a message that he plans to make it his own and embrace what has made Late Night so special. When Conan O'Brien took over from Leno for his short-lived stint in 2009, he packed up and moved to LA without Michaels, a decision that only hurt his chances at success.
But at a recent industry event, Fallon revealed the major piece of advice he received from Leno about his new gig: Make your monologue longer. "People are busy, work hard, they may have missed the news, so you have to give them a complete view of the news," Leno apparently told Fallon.
The new host expanded on this story when he sat down for an interview with comedian David Steinberg on Showtime's Inside Comedy this week. He explained that when he was just starting on Late Night, Leno had his 10pm show on NBC, followed by Conan's Tonight Show at 11:30 and then finally his show at 12:30.
"So it's three talk show hosts doing the same monologues basically," Fallon said. "It was so hard to write bits, so we had to be creative and think of other things that we could do that the other shows couldn't." That's how he came up with ideas like playing Willow Smith's "Whip My Hair" as Neil Young with a 70s era Bruce Springsteen backing him up. In other words, one of the most unique and entertaining moments that late night had seen in years.
Later in the interview, Fallon told Steinberg about his decision to expand his monologue, which currently runs about four minutes to more like 8-10 minutes, based on the advice he received from Leno. "That's doubling my time," he said. "My writers are freaking out, like, 'what do you mean, do we have to write double the jokes?'"
If "history repeats itself," Fallon said, in a nod to the Conan fiasco, he could "end up on some cable network in three months, hosting some other show."
Watch both clips below, via Showtime:
The monologue may be a central part of what makes Leno's Tonight Show what it is, but it has nothing to do with what makes Fallon's show succeed. Having to follow Leno and Conan in those early years forced to come up with ideas that are so much more creative, so much more forward-looking, that he could have ditched the monologue altogether and no one would have even noticed.
When Fallon wasn't doing musical parodies, he was taking a page from his former home at SNL and doing "cold open" political sketches that were so much better — and so much more likely to go viral — than anything he could have said with a monologue.
If Fallon is going to be the late night host for the future that NBC hopes he can be, he needs to be doing more of the type of comedy that lives on into the next day, getting passed around feverishly on Facebook and YouTube and turned into GIFs on Tumblr. He may be growing up by taking on the Tonight Show, but that doesn't mean he needs to grow out of what his fans love so much about him.
Leno may come from a world in which people "miss the news" and need a late night monologue to catch up, but Fallon comes from one in which people already looked at more news than they can handle on the internet and their phones all day long. By the time 11:30 rolls around, they want something more. And that's what Fallon should be giving them.
[photo via screengrab]
— —
>> Follow Matt Wilstein (@TheMattWilstein) on Twitter
Have a tip we should know? tips@mediaite.com