Jimmy Fallon Tells Matt Lauer How He Landed Obama Interview: 'The President Booked Himself'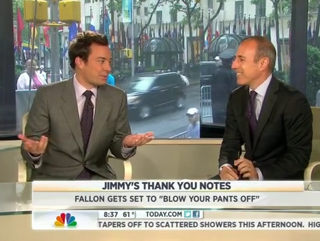 Jimmy Fallon appeared on the opposite end of the NBC programming schedule today with Matt Lauer on Today, in an in-studio interview where he talked about everything from getting President Obama to "Slow Jam the News" with him to somehow convincing Bruce Springsteen to perform a cover of Willow Smith's "Whip My Hair." And he made some news on the President Obama interview– the whole thing was the White House's idea.

RELATED: Jon Stewart To Obama On Jimmy Fallon Appearance: 'You Don't Have To Do This Sh*t Anymore'

"That's the craziest thing to ever happen to us," Fallon told Lauer of the time the President not only stopped by for an interview, but slow-jammed the news with The Roots, "We keep going to each other on set, 'That didn't really happen, right?'" He noted that the idea came about after the First Lady did a segment playing dodgeball in the White House, throwing balls past age-old portraits of George Washington. "The President booked himself on our show," Fallon explained, based on that wacky appearance. The White House called first, and when Fallon asked for an interview, got an "I'll get back to you" before the ultimate yes. He also told Lauer did not get much opportunity to tweak President Obama's comedic timing during the slow jam segment, but didn't try too hard.
"What's more exciting," Lauer asked, singing with the President or Springsteen. "The President is more of an honor, of course," Fallon answered, but he didn't discount how amazing doing a segment with Springsteen was. Fallon also took the time to read some of his "thank you notes," as he does in a recurring segment on his program– thank yous to Al Roker and the automatic dryer machine in the bathroom that replaces paper towels sometimes.
The segment via NBC below:

Have a tip we should know? tips@mediaite.com