Jimmy Fallon's Tonight Show Debut Kills, Especially on YouTube
Wilstein: Jimmy Fallon's
Tonight Show
Debut Kills, Especially on YouTube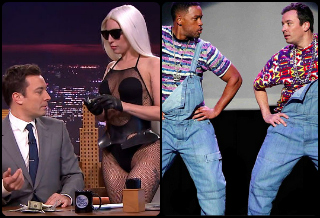 The final numbers have yet to come in, but it looks like when all is said and done nearly 10 million people will have watched Jimmy Fallon make his Tonight Show debut Monday night following NBC's Sochi Olympics coverage and the late local news. The show, which will eventually air at the same 11:35pm slot as CBS' Late Show with David Letterman and ABC's Jimmy Kimmel Live, did not get off the ground until after midnight on the east coast, and those who did stay up to watch were treated with some seriously special moments.
But you didn't have to watch the Tonight Show live on television to experience everything Fallon had to offer on night one.
The show opened with the new Spike Lee-directed opening credits, followed by a heartfelt pre-monologue of sorts from Fallon, who introduced himself as a life-long fan of the Tonight Show who just hoped he could bring some of the same joy and laughter to America that he received from Johnny Carson growing up in Saugerties, New York. Only then did Fallon retake the stage to deliver his real monologue (mostly luke-warm jokes about the Olympics).
But the real fun did not start until Fallon sat down at his new desk and casually mentioned a $100 bet he'd made with an unnamed friend who didn't believe he would ever get the Tonight Show gig. That's when Robert DeNiro, Tina Fey, Joe Namath, Rudy Giuliani, Mariah Carey, Tracy Morgan, Joan Rivers, Kim Kardashian, Seth Rogen, Lindsay Lohan, Sarah Jessica Parker, Mike Tyson, Lady Gaga and Stephen Colbert came out in quick succession to hand him $100 each (Colbert went with 10,000 pennies). It was a moment that only Fallon (or maybe Kimmel) could pull off and totally blew Leno's surprise cameo-filled song from his last show out of the water. Leno may have had Oprah Winfrey, but the cumulative effect of Fallon's group was greater, especially since they barely spoke as opposed to singing cheesy Sound of Music lyrics.
After a commercial break, the traditional move would have been for Fallon to sit down with his first guest for an interview that included the requisite congratulatory messages and small-talk anecdotes. But that didn't come until later. Instead, we got "The Evolution of Hip-Hop Dancing," with Fallon and Will Smith going through dozens of classic moves in just over two minutes. Drawing a straight line from Late Night's "Evolution of Dad Dancing" and "Evolution of Mom Dancing" with First Lady Michelle Obama, it was the perfect (GIF-able) viral gem for his first Tonight Show: Both accessible to mainstream America due to Smith's massive popularity and hitting that sweet spot of 90s nostalgia that Fallon's hardcore fans love so much. It was immediately followed by an equally spectacular performance by U2 from the roof of Rockerfeller Center, 70 stories above Manhattan at sunset.
Time for an admission. I live on in Los Angeles, where for some reason television airs three hours later than it does in New York City. Typically, this would mean that if I wanted to watch something historic like Jimmy Fallon's first Tonight Show, I would be forced to do it long after it had been live-tweeted and poured-over by the media-obsessed NYC crowd. But thankfully, for my case and everyone else in my boat, I didn't have to do that. In fact, I was in bed and asleep by 11pm Pacific Standard Time.
With or without the benefit of Mediaite's live coverage, Fallon's new Tonight Show YouTube channel made it possible for anyone not sitting in front of a TV to catch the two best moments posted above (along with the monologue) before the show even aired on the west coast. And today, the Will Smith clip has been viewed nearly 600,000 times, while the $100 bet segment has over 150,000 views.
While those numbers can't match the millions of people who did tune in and watch the show live last night, the show's aggressive use of YouTube, carried over from the Late Night days, means these clips will continue to be watched and shared for weeks, months and years to come. A clip of Fallon and his BFF Justin Timberlake talking in all #Hashtags has been viewed nearly 22 million times since it was posted four months ago. That clip of him dancing with the first lady has more than 17 million.
Fallon is the king of producing late night segments that play even better online than they do on TV (though Jimmy Kimmel has been quite successful at it as well, especially when those clips include crying children). Unfortunately for NBC, this means that even for a television event as big as Fallon's Tonight Show debut, most people could get away with watching the most popular highlights online that night or the next morning and skip watching the show live altogether.
The second half of last night's show felt a lot more like the traditional late night format, with Smith sitting down for two segments and U2 joining him on the couch after that. The only moment from the back half that felt as special as anything from the front of the show came when Bono and the Edge did an "impromptu" acoustic performance of their Oscar-nominated song "Ordinary Love," with some back-up from The Roots.
In order to succeed in his succession of Leno, Fallon will need to put together a show that both captures the interest of the former host's older, mostly-middle America audience while still creating the viral moments that his younger fans eagerly post and share and remix as they are happening and throughout the next day. After all, the Tonight Show business model can hardly sustain itself on YouTube views alone. Fallon's debut certainly lived up to that potential — to be a bridge between the past and the future and keep the Tonight Show relevant for the next generation. Let's just hope he can keep it going strong.
[photo via screengrab]
— —
>> Follow Matt Wilstein (@TheMattWilstein) on Twitter
Have a tip we should know? tips@mediaite.com